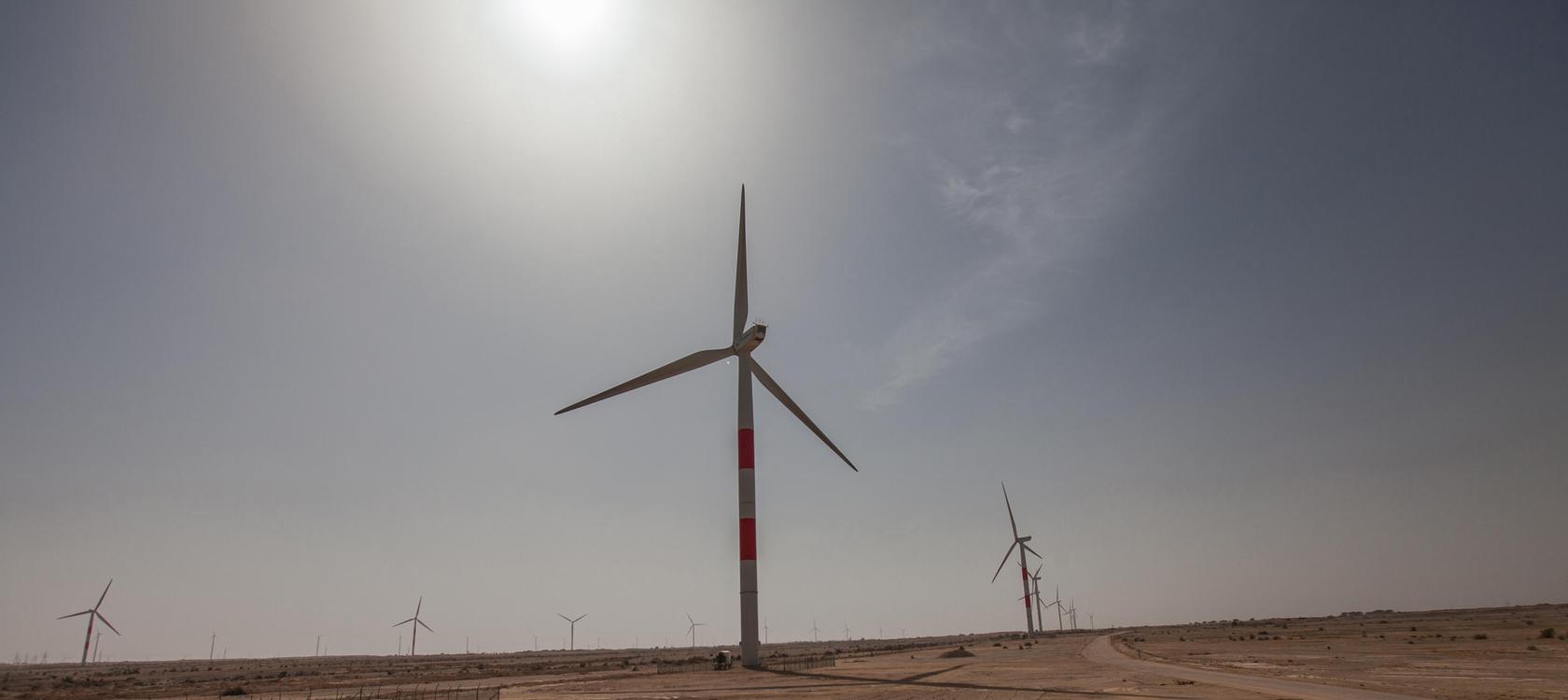 Pakistan
Pakistan:
winds of
hope
2.5%
of Pakistan's electricity is produced by wind farms
500
jobs created during the project's building stage
60 000
The equivalent of 60,000 tonnes of CO2 reduced every year
In Pakistan, a new wind farm was built in the province of Sindh. Developed thanks to AFD's private sector branch, Proparco, the project is a factor in creating local jobs and bolstering renewable energy in a country marked by a shortfall.
The row of gigantic wind turbines in the Jhimpir corridor in Pakistan must be a sight to behold if you're a young goat shepherd gazing up at their immensity. What must flit through your mind? Thoughts of the energy it produces for the inhabitants of Sindh, the country's second most populated province? Or would you imagine yourself working deep inside one of these mysterious giants in a few years' time?
Today, Pakistan has an annual energy shortfall of around 5,200 megawatts (MW). This is huge when you consider that it's equivalent to the power produced by around five modern nuclear reactors. To tackle this crisis while focussing on clean energy, Pakistani group Gul Ahmed Energy has developed a large-scale wind turbine programme in partnership with Proparco and AFD.
An initial 20-turbine farm producing a total of 50 MW appeared in the Jhimpir corridor in the country's southern region in October 2016. Over and above the energy they produce, wind farms drastically reduce greenhouse gas emissions and carbon footprints by reducing reliance on fossil fuels. They are also a significant boon for economic development thanks to the jobs created by the wind farm industry, and reduce dependence on fossil fuel imports: a costly endeavour that tips the country's books into the negative.
Affordable, eco-friendly, with a positive knock-on effect for economic development and jobs: all these reasons prompted Proparco to invest $20m in wind farms in Pakistan. This initiative aligns perfectly with AFD's strategy for fighting climate change.
A decisive contribution
Without backing from AFD and its subsidiary Proparco, one of our primary investors, this wind farm project would never have seen the light of day. Our country needs projects like these.
Oriane Zerah
Pionnier du vent
C'est une évidence : Ubaid Amanullah, le directeur exécutif de Gul Ahmed Energy, est convaincu du bien-fondé de l'énergie éolienne. Et s'il estime qu'il est encore trop tôt pour tirer des conclusions sur l'impact réel de ces nouvelles formes d'énergies pour la population, ce diplômé en économie de Northwestern University (USA) sait que le Pakistan fait un pari gagnant sur le long terme.
Avec une première centrale éolienne construite en 2013 et la plupart des autres unités développées en 2016, les débuts de l'éolien au Pakistan sont à la fois modestes et prometteurs. « Aujourd'hui, l'énergie éolienne n'est pas un substitut, c'est une source d'énergie secondaire, explique Ubaid Amanullah. La totalité des centrales éoliennes ne produisent encore qu'une petite partie de la quantité d'énergie dont aurait besoin le Pakistan. Mais ce projet est important car il marque le début d'une nouvelle ère dans la production énergétique du pays. »
Une révolution pour une nation « en train de réaliser combien il est important d'en venir aux énergies renouvelables ». Avec ce projet, estime le dirigeant de Gul Ahmed Energy, « nous faisons un premier pas dans la bonne direction et nous devons continuer ».
Pakistan's energy crisis may soon be nothing more than a distant memory thanks to wind turbines and the 13 farms that are already up and running in the country, with nine more currently in construction.
To meet its target of having 10% of the country's electricity generated by wind, Pakistan intends to push things further. Over the next few years, a number of wind farms are set to open, particularly on sites in places such as Jhimpir and Gharo, both of which are located in Sindh, a state in the country's south.
These projects are all backed by the AFD's and Proparco's "Green Growth and Solidarity" initiative, launched in 2015 and designed to support sustainable projects and programmes to fight climate change effectively.
 
ZEHRA ZAHEER, A TALENTED ENGINEER AND FIGUREHEAD

Pakistan's energy mix may not be the only change on the horizon. Winds of change are whistling through the ranks of engineers hired by the Gul Ahmed Wind Power Limited (GAWPL) group to work on the wind farm in the Jhimpir corridor. And this wind has a name.
Born in Karachi, a hundred-odd kilometres away from the site, Zehra Zaheer has always been passionate about electrical engineering. After studying engineering and technology in Pakistan's capital, she was hired by GAWPL a year ago.
"Most of my female friends have studied, but once they finish university they get married, have children, and stay at home," 23-year-old Zehra explains. "They're highly qualified, but don't work because their families are against it. I studied to be an engineer for four years. I need to put my knowledge into practice, experiment, test out my skills."
As the group's first female electrical engineer, Zehra Zaheer knows that she was chosen from among her university's ten top engineers "for a reason": "It's the company's way of fighting gender inequality in the industry."
Responsible for analysing data collected by the wind farm, and tasked with drawing up reports and solving technical issues, Zehra is also responsible for making decisions on future projects. "I hope I'll serve as an example, and that other women will join the team," says the young engineer who dreams of one day going back to school to become a technical manager. Nothing looks likely to stand in the way of the winds of change.
BOOSTING LOCAL EMPLOYMENT
When it comes to such major projects, financial backing is crucial. And recruiting a local workforce even more so, whether in high-added-value jobs or less qualified roles. This is where AFD and Proparco can be of help in the wind farm programme.
The wind farm's construction stage helped create 500 jobs taken up by Jhimpir locals, particularly in the construction and safety sectors. Warehouse and caretaker positions have also been created since the wind farm has been up and running