Bolivia
Bolivia remains one of the poorest countries in Latin America, despite having the highest growth on the continent. Climate change is also a daily challenge. Since 2015, AFD has been supporting the country in two priority sectors: water and energy.
AFD and Bolivia: Addressing the challenge of climate change and reducing inequalities
Improving access to electricity
Developing renewable energies
Scaling up access to drinking water and sanitation
Supporting local initiatives
Improving access to electricity
Developing renewable energies
Scaling up access to drinking water and sanitation
Supporting local initiatives
Bolivia is a landlocked country with 11 million inhabitants and one of the poorest in Latin America: over a third of Bolivia's population still lives below the poverty line. But Bolivia also has the highest economic growth on the continent, thanks to mining and energy resources. 
The country is also one of the most adversely affected by climate hazards. For example, in 2016, Bolivia faced the worst drought for the past 25 years: a state of emergency was declared.
There are also other challenges on top of the fight against climate change. Inhabitants, especially in rural areas, suffer from the poor quality of services for access to drinking water and sanitation. Another emergency is the need to diversify and secure national power generation.  
To address these challenges, the Bolivian authorities wanted AFD to focus its activity on the energy sectors, especially renewable energies, and water/sanitation. These priorities are in line with the country's aim of ensuring universal access to electricity and water by 2025 and taking effective action against climate change.
AFD has been a partner of Bolivia since 2015. It implements loans to the State and technical assistance programs for actors in the energy and water sectors. 
Interactive map
This map is for illustrative purposes only and does not engage the responsibility of the AFD Group
See map of all projects
News & Events
Download
Research document
As in many large cities, the now prevailing technical model for producing and distributing water in La Paz and El Alto is that of a centralized network serving the whole ...
Jun 2016
Research document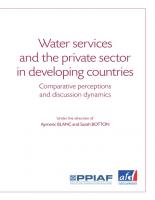 During the past twenty years, participation of the private sector in the field of essential services has been a topic of much discussion, allowing the expression of very different viewpoints ...
Apr 2012