Kenya
In the heart of East Africa, Kenya is well performing in terms of economy. Since 1997, AFD has supported Kenya in financing low-carbon infrastructure, promoting access to essential services, particularly in urban areas, supporting public policies through the private sector, and protecting the country's biodiversity.
Accompanying the energy transition
Securing water supply and sanitation
Préserver l'environnement et la biodiversité
Soutenir le secteur privé
Accompanying the energy transition
Securing water supply and sanitation
Préserver l'environnement et la biodiversité
Soutenir le secteur privé
Situé en l'Afrique de l'est, bordé par l'océan Indien, le Kenya compte 48 millions d'habitants. Grâce à d'importantes réformes menées avec l'aide de la communauté internationale, il est devenu la troisième économie de la région et affiche une croissance forte (5,7 % anticipés pour 2017-2019).
Mais une croissance qui ne profite pas à tous : si le pays a vu une classe moyenne émerger ces dernières années, plus d'un tiers de la population vit encore sous le seuil de pauvreté. Et si certains secteurs sont performants (télécommunications, énergies renouvelables), les infrastructures ne suivent pas le développement économique.
Mais le potentiel est là : une population jeune, un secteur privé dynamique. Le pays fait figure de pionnier sur la géothermie et, côté intégration régionale, bénéficie du marché commun instauré par la Communauté d'Afrique de l'est (CAE) sur tout le territoire.
Partenaire du Kenya depuis 1997, l'AFD se concentre sur les infrastructures dans les domaines de l'énergie et des transports, l'aménagement urbain avec un focus sur l'eau, et le soutien au secteur privé, notamment les PME. Elle intègre dans ses projets la préservation de l'environnement.
Notre agence de Nairobi dispose également d'une compétence régionale dans les quatre autres pays de la CAE (Ouganda, Tanzanie, Burundi et Rwanda), et en Somalie depuis 2016.
Interactive map
This map is for illustrative purposes only and does not engage the responsibility of the AFD Group
See map of all projects
Download
Research document
The Millennium Ecosystem Assessment has clearly demonstrated that all the Earth's ecosystems have now been dramatically transformed through human actions. The resulting biodiversity loss is undermining the provision of ...
Apr 2014
Research document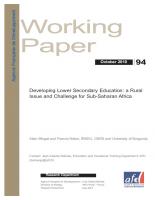 The current development of African education systems focuses on the perspective of universal completion of six years of schooling. This perspective, targeted by the international community for the year 2015 (Dakar ...
Jan 2010