Between French Guiana and Suriname, Healthcare Has No Borders
published on
22 January 2019
AFD and the Hospital Center of Western Guiana have just signed a partnership agreement that signals a new step forward in the reinforcement of healthcare cooperation between French Guiana and Suriname. This agreement comes right after the inauguration of two new hospitals on each side of the border.
Three hours to get there, and three hours to come back. Until now, this was the trip that dialysis patients living in Saint-Laurent du Maroni were required to make several times a week to the west border of French Guiana, where they received treatment at the Cayenne Hospital, the only one in the area equipped to treat them. From January 28, 2019, they won't have to travel such a long way anymore. The Hospital Center of Western Guiana (HCWG) at Saint-Laurent du Maroni has just moved into a brand-new, 28,000 sqm building. As of now, it is preparing to provide new services and hold new equipment, such as for dialysis, a continuing care unit, neonatal reanimation, MRI facilities, etc. Chemotherapy will also be available in April. Patients living on the Suriname side of the border, at Albina or Moengo for instance, will also benefit from these services. Before, they were obliged to travel three or four hours to reach the hospital at Paramaribo, the country's capital.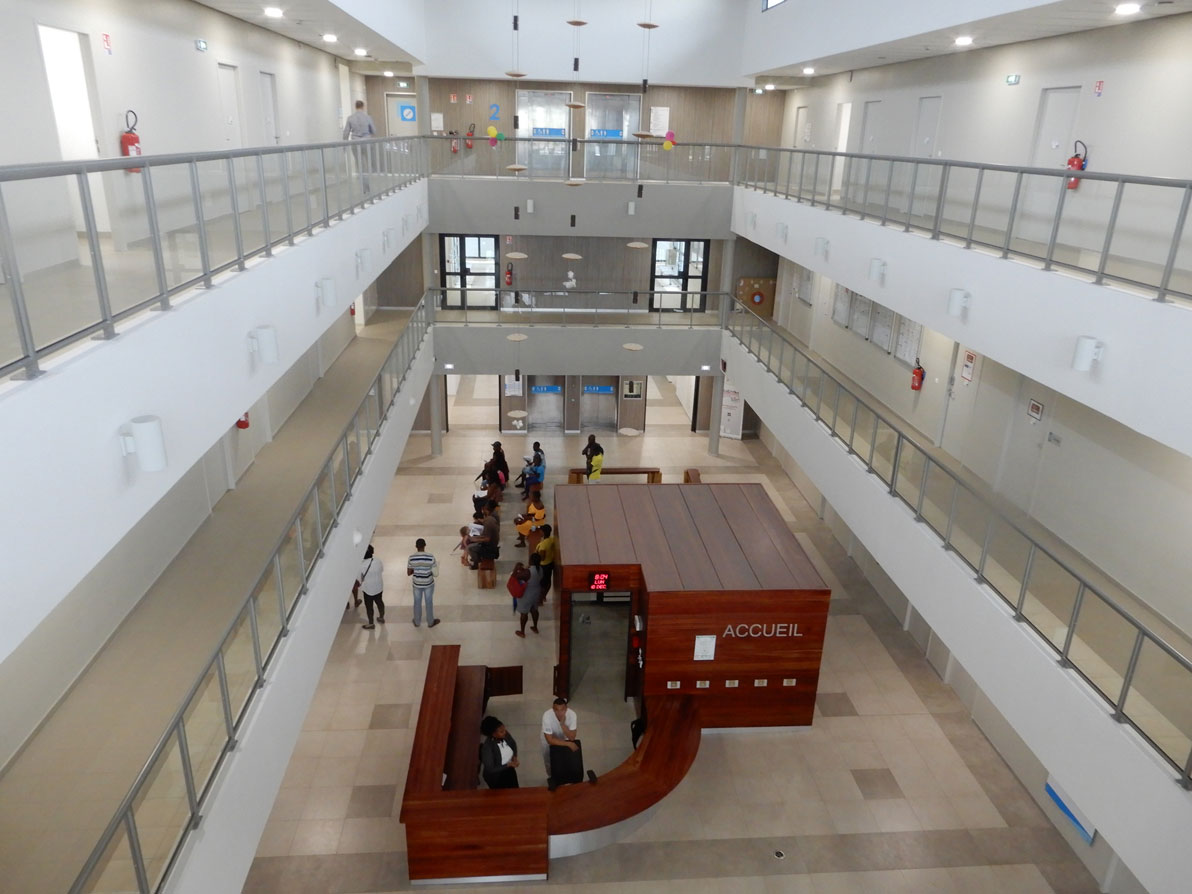 In parallel, another hospital has opened in Suriname. It should be fully operational during 2019 for local consultations, as well as for minor emergencies and uncomplicated deliveries. This will contribute to relieving the HCWG and simplify the administrative process for patients from Suriname. Currently, many women from Suriname go to Saint-Laurent du Maroni for delivery because the trip takes only fifteen minutes by dugout canoe, but then have problems registering the birth of their baby in Suriname. By having their baby close to home, at Albina, administrative formalities will be simplified and their lives made much easier. In case of complications, these patients will still be able to go to the HCWG.
Construction of the two hospitals was partly funded by AFD through a 47.5-million-euro loan to the HCWG and another 15-million-euro loan to the government of Suriname. Their opening is in parallel to cooperation efforts undertaken since 2010 between Guyana and Suriname to improve healthcare in the cross-border area. AFD has continued to support this endeavor by signing a new funding agreement with the HCWG in December 10, 2018. This agreement entails a 100,000-euro subvention over three years.
Will radiotherapy soon be closer to home?
The new program, which is also supported by the European Union, the Agence Régionale de Santé (ARS) and the Prefecture, is organized in two major sections:
For healthcare professionals from French Guiana and Suriname, "we are going to build a sort of directory of medical and paramedical offers available on each side of the border, in the hospitals of Saint-Laurent du Maroni, Cayenne, Albina and Paramaribo, as well as in healthcare centers like Moengo," explains Dr. Frédérique Perotti, President of the HCWG Medical Commission. "This way, newly arrived doctors will know where to send their patients." Workshops will also be organized to share healthcare protocols or preventive actions on common topics, such as HIV.
Communication campaigns on healthcare possibilities will be implemented to inform local residents. Providing access to institutions according to the healthcare they offer will also aim to make cross-border care easier. "The idea will be to offer care that exists only on one side of the border to people that live on the other side. This would be dialysis and chemotherapy, for example, in Saint-Laurent and, perhaps, radiotherapy in Paramaribo," says Dr. Perotti. "This latter opportunity is still being discussed," adds HCWG Managing Director Jean-Mathieu Defour. "But it's beneficial for everyone." This would avoid having to send patients in Guiana to the city for radiotherapy, as is currently necessary.
The subsidy provided by AFD will be used to implement a team of four people entirely dedicated to carrying out this healthcare cooperation project: a coordinator based at the HCWG, another at the hospital in Albina, a social worker from Suriname and an interpreter to accompany and orient the Suriname residents that are cared for at the HCWG.
The goal is to better regulate of the flow of patients between Suriname and French Guiana by providing consultations close to home.
---
Further reading:
A New Hospital at Saint-Laurent-du-Maroni
Five Solutions For Fairer Societies
Guiana Shield: Working Together To Better Protect The Amazon Rainforest