The Development Agora
published on
11 January 2019
French and international partners of the Agence Française de Développement now have free access to new work areas at AFD headquarters in Paris. These open, shared and convivial workplaces illustrate the role of the development platform backed by AFD, as well as the Agency's propensity for partnerships.
We would have voluntarily left them the keys, if keys were still in use. However, AFD partners will be using badges to access the renovated open spaces of our Paris premises in the city's 12th arrondissement. They are equally welcome in the 85 AFD offices worldwide. 
Since the inauguration of the work area on January 10 in the presence of Jean-Yves Le Drain, French Minister of Foreign Affaires, major development players such as allied development banks (in particular within the IDFC network), the World Bank, NGOs and associations, and large companies and start-ups have found a friendly coworking home where employees can meet in the building at 5 Rue Roland-Barthes.  
"I'll come with my 11-year-old daughter; she's very interested in art!" says Refik Akinci, of TSKB, the development bank of Turkey, referring to the works of poetic realism found in the exhibition titled: "Kinshasa: Art Is Invented in the Street". The presence of art at the Agence Française de Développement is something everyone appreciates and will be continued, with regular exhibitions by artists from countries where AFD intervenes.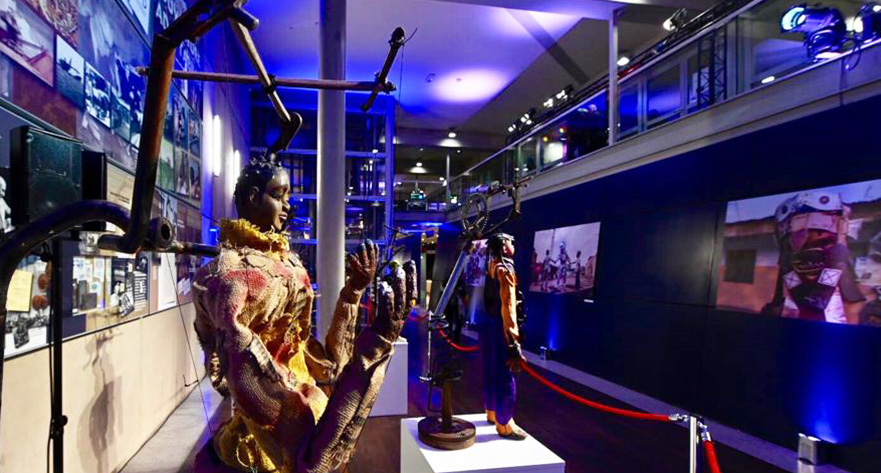 "Art is an incredible vector for building and shows our shared vision of the world," explains Rémy Rioux, Chief Executive Officer of AFD. "It's part of the street scene because it arises from the field, from everyone."

"This opening of AFD premises to partners symbolizes the need for development players to work together," comments Tomoharu Otake, France's representative to JICA, the development bank of Japan. Then he smiles as he asks: "Is the cafeteria also shared?"  
Samir Abdelkrim, businessman and the founder of Emerging Valley, AFD partner for a Social and Inclusive Business Camp, is attracted by another area: "Is it true there's a coworking area? That interests me!" exclaims the creator of Startup Lions: Africa Tech, based between Aix-en-Provence and Marseille. "As a development platform, AFD is a pioneer and a driver in this new way of designing partnerships with all sector players," he adds. 
"Opening the door to partners is a great way to innovate, and it's what AFD allows us to do every day," notes Yves Altazin, Director of the Frères des Hommes association. "Our collaboration enables us to invent new ways of doing things and to carry out long-term experiments, which is a rare privilege." 
"We can obviously find a parallel between the AFD's initiative of opening its headquarters to partners and the positive, attentive and trustworthy way we work together," says Yolaine Guérif, Quality Manager for the Agriculteurs Français et Développement International (AFDI) association. "Through our presence, the 800,000 African farmers our organization supports with the help of AFD are here this evening." Maybe AFD will need to push the walls back!
---
Further reading:
« Kinshasa : Art Is Invented in the Street" »
DRC: In Kinshasa, How an Evaluation is Put Together