7
students got their Baccalaureate in 2017
2 years
The time required to achieve the Baccalaureate level
In Colombia, convicted minors can hope for a better future thanks to an adapted school curriculum and day-to-day support. A report from the suburbs of Bogota, with adolescents followed by the Amigo Soacha Club.
In Colombia, as in other Latin American countries, minors are still given prison sentences when they are convicted in court. The association International Catholic Child Bureau (BICE), supported by AFD via its NGO Initiative, is trying to change this situation by advocating for minors not to be systematically shut up in prisons and to continue to live "a childhood without bars".
To achieve this, BICE has partnered with the Tertiary Capuchins who, since 1988, have been managing juvenile counselling centers in Colombia. In terms of training, including academic training, the Tertiary Capuchins work with the Centro de Formación de Promotores Juveniles (CENFOR), which has developed adapted school curricula.
In a deprived neighborhood of Soacha, a town on the outskirts of Bogota, the association El Club Amigo Soacha offers an alternative to imprisonment to 120 young people whose life courses are often complex and violent.
In this center, education is the cornerstone of the programs proposed to adolescents. CENFOR has developed "à la carte" academic programs for these young people, who have sometimes been out of school for several years.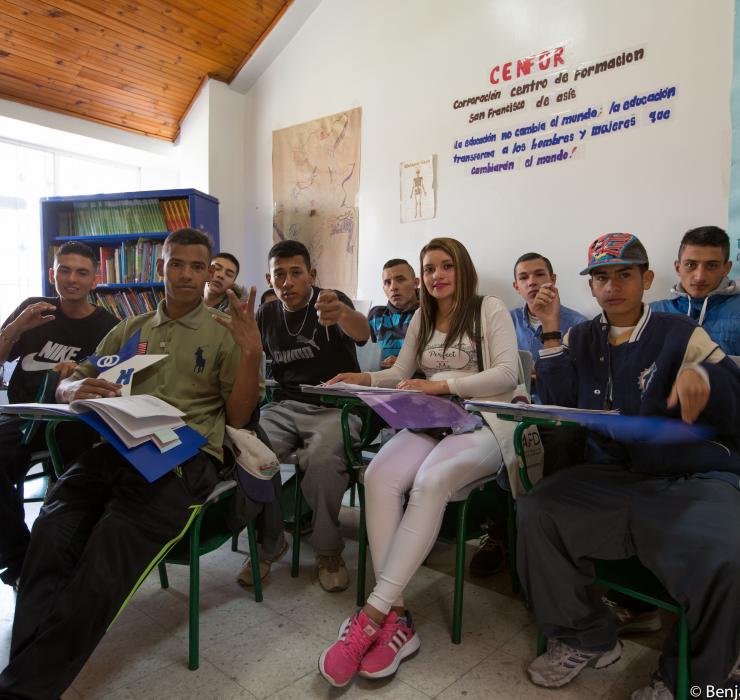 © Benjamin Hemar/ AFD
SPECIFIC TRAINING
The teaching staff have been specially trained to coach these young people. They are always there to listen to them, motivate them every day via jointly defined rituals. For example, the students start their day by reciting a positive text. It is especially important that no one ever judges anyone, to avoid any kind of stigmatization. Together, teachers and students build a life project, so that the "remedial academic training" is integrated into the future of the young people in question.