With International Women's Day on 8 March just around the corner, Agence de Développement Française hears from twelve exceptional women from Gabon through an exhibition perfected by talented photographer Bunny Claude Massassa. Come and discover these five Gabonese women, each fighting in their own arena for a more equal society.
Gabonese women speak up. For years, Agence Française de Développement (AFD) has been supporting these women on a daily basis through its projects conducted in partnership with all those working in the country. The progress made thus far is impressive: gender equality has been greatly improved, certain legal discrimination has been removed, and the country's ambitious ten-year strategy "2015-2025, Decade of Women" has been established.
Yet more must be done. This is the message we hear from the Gabonese women we will be introducing you to. They tell of the daily challenges they face in the workplace, in the field of new technologies and at school. They send us a strong, but simple message: there is still work to do to eliminate discrimination and break down stereotypes.
This is particularly true in Africa, where education, maternal and child health and access to rights are central issues in the path to equality between men and women. AFD is addressing these challenges through its strategic "100% social cohesion" objective, particularly through the inclusion of women and the fight against gender inequality.
Above right: Ada Mvono, midwife in Gabon: "We must make maternal and child health education more accessible and easier to understand." © Bunny Claude Massassa / AFD
Bunny Claude Massassa, the artist behind the portraits of these women fighting for gender equality, is a multidisciplinary artist from Gabon, born in 1990. A self-taught photographer, she interned with the agency Afrik'image and the Gabonese daily newspaper L'Union, becoming one of the first women to advance in photography in the Gabonese press. She was also the first women to cover the Africa Cup of Nations football competition in 2017.

In 2019, Bunny created her own company, Bunny Studio. As an activist, she volunteers for numerous organizations by creating photographic campaigns and offering photography classes for children alongside SOS Mwana and by organizing fundraisers for Educaf.
In 2017, she presented her first exhibition in Libreville, entitled "LUMIERE: l'homme en quête de connaissance". (LIGHT: man in search of knowledge)

In 2018, Bunny's photography was presented at the 13th edition of the Dakar Biennale and then in Uganda. In 2019, Bunny will present her exhibition "Envoûtement" at the photography festival "L'Émoi" in Angoulême.
 
Gabon, the second largest economic power in equatorial Africa has some serious assets: vast forest resources, arable land, and exceptional biodiversity. Yet the country must still fight against inequality, develop its infrastructures and improve access to healthcare and education.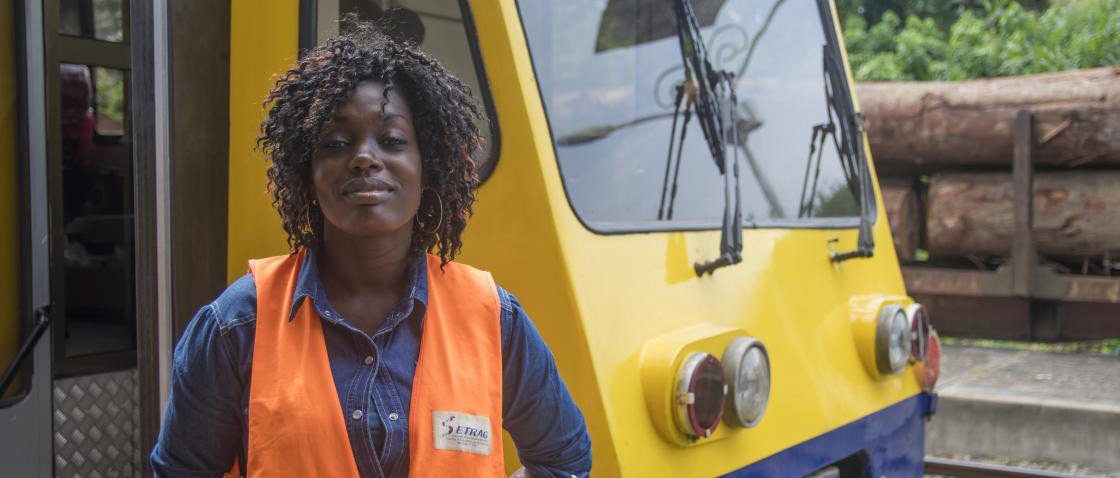 For over 70 years, Agence Française de Développement has supported Gabon in many different sectors. It has supported a multitude of projects over seven decades, some of which have become emblematic: the Kinguélé dam in 1975, the expansion of Libreville airport and construction of the Owendo port in 1988, the Eboro-Oyem-Mitzix road in 1993. Today, AFD's work in Gabon can be divided into the sectors of education, healthcare, rail transport infrastructure, agriculture and the environment, and the banking and private sector.

In the area of gender issues, our efforts are in keeping with the AFD Group's strategy, which has made gender equality a major objective. In Gabon, AFD has carried out analysis of the gender situation, as well as a specific study on women in rural areas, including practical recommendations for fighting against existing discrimination. These recommendations could be implemented in the near future as part of an agricultural project.

The testimonies gathered for exhibition were related to projects AFD is currently leading in Gabon with our public partners (the Ministry of National Education, the Ministry of Health, Institut Gabonais d'Appui au Développement, Agence Nationale des Parcs Nationaux), and private partners (AEDH, Femme lève-toi, Acte, 3S, Agir Pour le Genre). This partnership approach is absolutely essential in together working to build a common world.