70%
of the team at Kochi Metro are women
50,000
travellers every day
25.6 km
network to the heart of the city
Kochi, the largest city in the southern Indian state of Kerala, used to be congested with dense and chaotic traffic. The city now breathes easier since its new metro was launched in June 2017. The new network of trains has not only eased traffic congestion but it has brought with it some social benefits as well.
For the city's two million inhabitants, traveling to the city centre used to be a nightmare. Rickshaws, buses and cars clogged the narrow streets of the city. And, depending on where you wanted to go, the commute could take hours.

Since 7 February 2014, AFD has been working with local authorities and the Indian government to support the Kochi Metro project. The first line was inaugurated in June 2017 and has become the pride of the city. Being eco-friendly, it has already contributed to a considerable improvement in air quality and is taking the green route by using more and more solar panels to power the stations.
When the metro was first inaugurated, the curious public would come to visit the stations and experience its automatic doors and escalators. But one feature of this project stood out: around 75% of Kochi metro's staff are women working a wide range of positions: cleaning staff, ticket machine operators, train drivers, station managers and more. The amount of women working for Kochi metro is unprecedented in India.
"We're trying to be as environmentally friendly as possible. But gender inclusion and the empowerment of women is also critical. We have brought in self-help groups led by women to run daily operations around the stations."
Shri A.P.M. Mohammed Hanish, Managing Director, Kochi Metro Rail Ltd.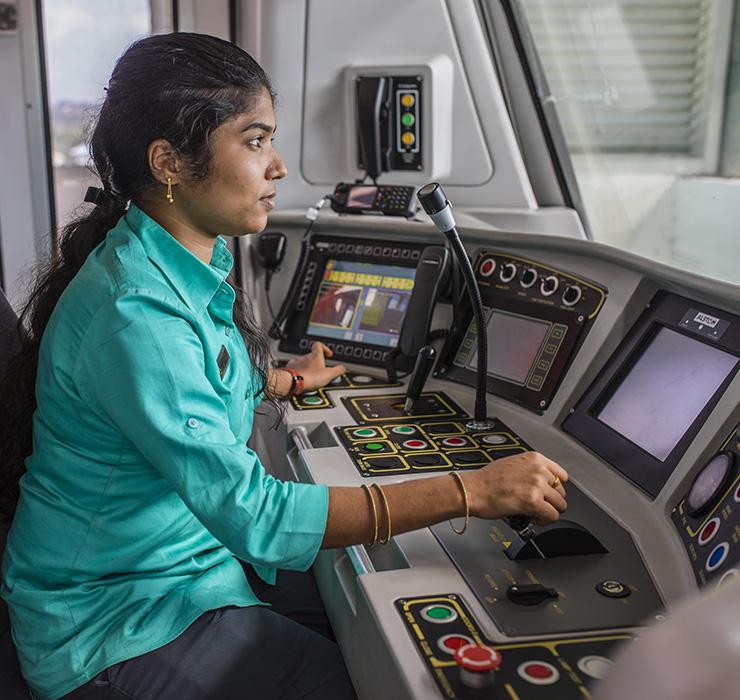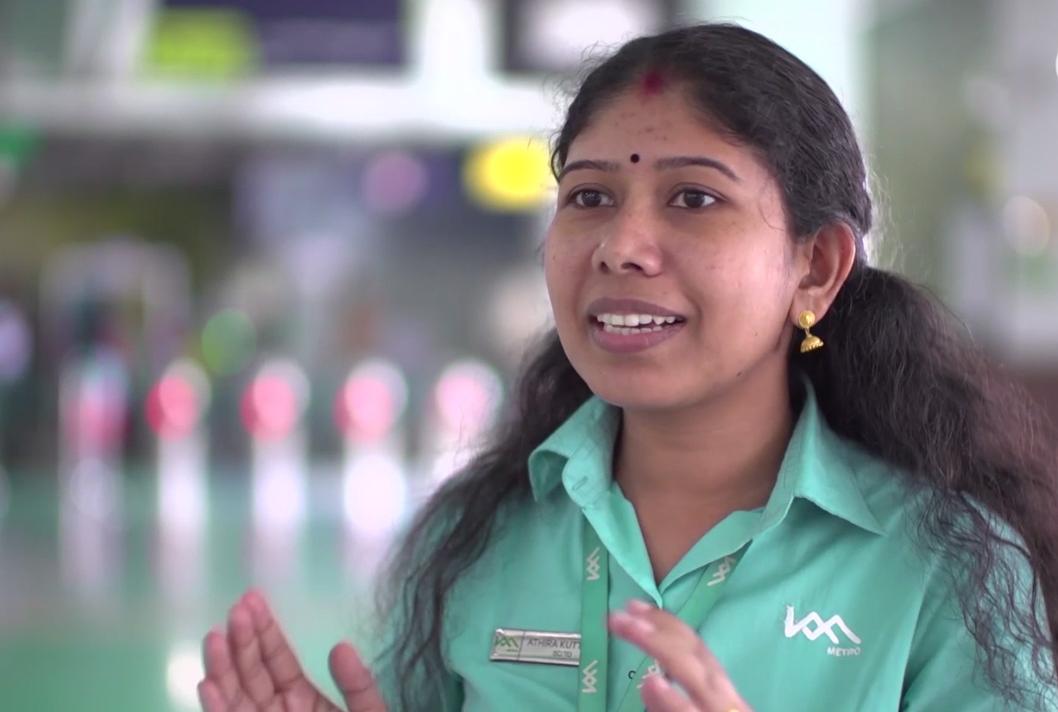 © Prashanth Vishwanathan / AFD
The Kochi Metro gave super-powers to Athira
"At first, people would ask me if I was really the station controller here," says Athira Kutty reminiscing about her first months in the new position. She was a bit overwhelmed in the beginning, but the young mother is intimidated no more. "Here, it's as if I had super-powers. It has boosted my self-confidence. And I can tell you it's the same thing for all the female staff of the metro."
Athira is one of the 700 women who work at the 22 stations across the city. Her daily duty is to make sure everything runs smoothly at Aluva metro station where she works. Aluva is one of the 4 end-line stations. In this part of the city, far away from the centre of Kochi, the metro has changed lives. These stations are busy at all times of the day. "Earlier it was chaos, jams, crowds everywhere. But now people have a fast, reliable and comfortable way to travel through the city," said Athira.
This electronics graduate was a newlywed who had just left her teaching job when she saw an ad in the paper for a position with Kochi Metro. She applied, and was selected for a one year training program before she took up her new job. "It was the first time a metro project had been launched in Kerala. I had no clue what to expect. And now I realise that I'm actually using 100% of what I had learned at university, while learning new things every day."
 
A different future for Vidya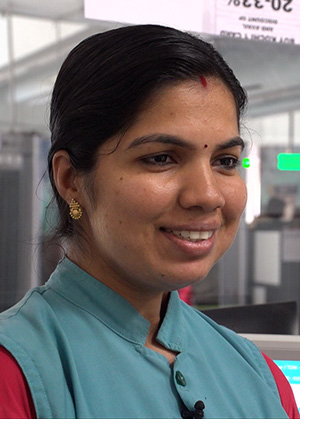 Her body language is confident and her voice is clear. From behind the counter, Vidya hands a ticket and change to a customer at the Kaloor station. Two years ago, she couldn't imagine her life away from her home and her 9-year-old daughter. 
But she's a member of a self-help group called Kudumbashree, that signed a partnership with the Kochi Metro Rail Ltd. This organisation, created for women and by women, has allowed many of its members to break away from professional exclusion, and find employment. 
"I passed a test and got selected. Like many people here coming from Kundumbashree, I had never worked before. And very honestly, I was scared before starting this job."
After being trained in customer management and certain IT tools, Vidya became more self-confident. "There are many women here, and we were wondering how people would react to that. But our fears were misplaced. People have been very nice to us. And between all the staff members, the spirit is very relaxed."
Thanks to her job at the metro, she has broadened her horizons. And so has her daughter, who's in the fourth grade. "She likes to come here, watch people working at the station, the trains. I think this is inspiring for her. Maybe one day she'll want to drive one, and why not? I have nothing against that, she can do whatever she wants with her life!" Like Vidya, 600 women from underprivileged backgrounds are working for Kochi Metro Rail Ltd (KMRL). Social and gender empowerment is one of the major achievements of the Kochi metro project. 
 
"It's convenient, it's comfortable, and on top of that it's a nice ride!"
Deepak can't keep his eyes off his smartphone while waiting for his metro for Ernakulam. On the platform of the busy Edapally station, this office employee remembers how it used to be. "Before I used to take the bus to go to work. Now with the metro, my commuting time has been reduced by 50%. And it's so much more comfortable!"
It's the morning rush hour and the platform is full of young professionals who switched to this mode of transportation in a heartbeat. They all praise the metro's modern look, the innovative designs of the stations and coaches. "It's convenient, it's comfortable, and on top of that it's a nice ride above the streets of the city." Amrita, a young lawyer for a local firm, only regrets one thing. "Where I live, there's still no metro line, so I'm looking forward for the network to expand and reach my place," she says.
 
This network expansion is already taking shape, with a second leg launched to expand towards the south-east of the city. But in the long run, the ambition is to become even larger, Mohammed Hanish, Managing Director of Kochi Metro Rail Ltd. "Ultimately, we want every mode of transportation, be it taxis, buses, metros, auto rickshaws, water metro, to be integrated in one user card that will be able to take the passengers on all these modes of transportation"
By making urban mobility easier, Kochi is setting the standard for sustainable urban mobility in South Asia and paving the way for a more open society.
---
Further reading:
5 Pioneering Cities On The Climate

Brazil: The Challenges of Curitiba