50+
students per class on average in secondary schools in the Dakar region
8
new secondary schools built, 9 others refurbished
200
new classrooms equipped in Casamance
Whether in Casamance to improve the public basic education service or elsewhere in Senegal to promote schooling beyond the primary level, AFD is working to sustainably develop students' skills and improve vocational integration, social cohesion, equality and peace in the country.
"It takes an entire village to raise a child", as a well-known African proverb goes. And this village needs a school. Senegal has fully understood the issues raised by education, with a government which earmarks an average of 24% of public spending for it. However, despite the progress made in children's access to school, only 6 students in 10 achieve primary completion, less than 5 go to secondary school and only 3 finish it. 
While substantial public resources are earmarked for education, they barely cover the basic operating needs. The capacity is not increasing sufficiently either. The equity and quality of education are also still inadequate. 
In this context, since the early 2000s, AFD has been supporting the implementation of Senegal's education and training policy. Today, we are continuing this commitment, with a focus on the Dakar area and Casamance, a region where there has been tension for three decades.
In Dakar, better conditions for success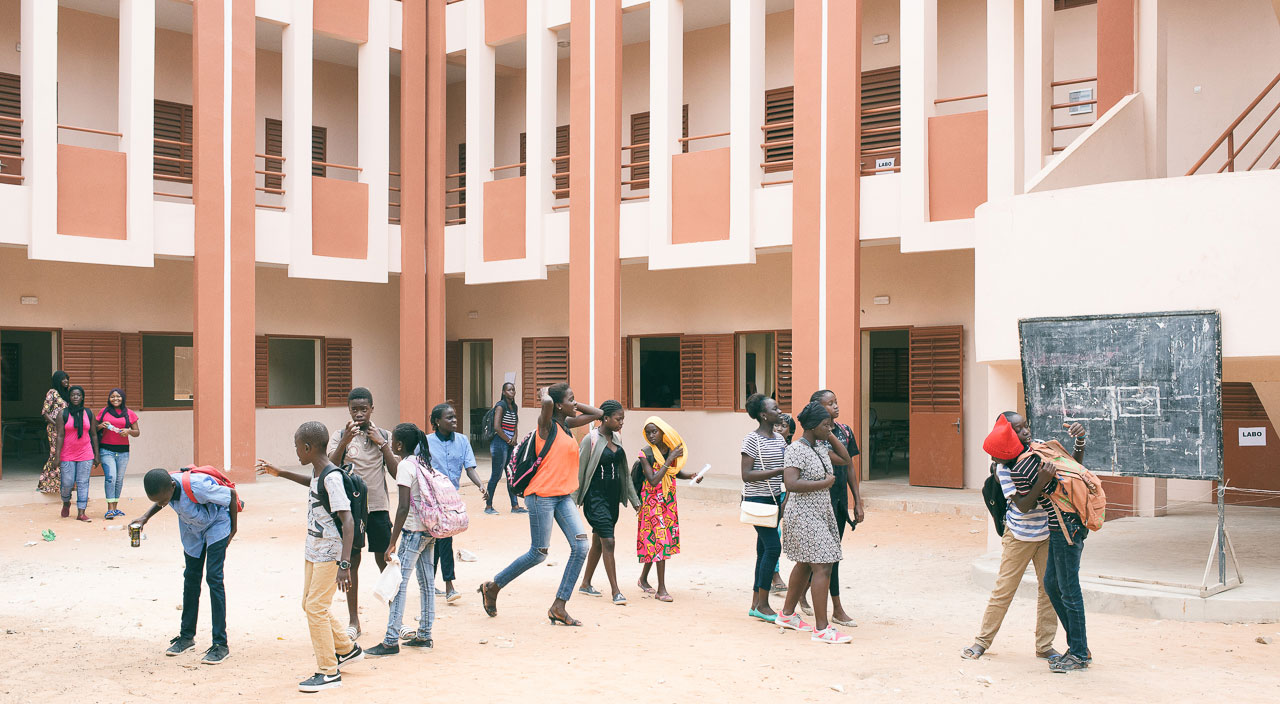 Teaching or learning in overcrowded secondary school classes and dilapidated buildings with aging or even no equipment is in no way conducive to quality learning. AFD has allocated a EUR 12m grant to the Ministry of Education of Senegal to improve conditions for the reception and success of students in three school districts in Dakar. In practical terms, it involves: 
Improving the capacity and reception conditions: building eight new secondary schools and refurbishing nine existing secondary schools, which will benefit 20,000 students. The 17 secondary schools concerned by the project will be equipped with furniture, teaching materials and IT equipment. 
Improving conditions for student achievement: the focus is on actors responsible for education management (inspectors, school principals, members of school management committees, teacher trainers). Their capacities have been strengthened to improve the effectiveness of local management and supervision, overhaul science education and give more attention to students with learning difficulties. These are all decisive factors in improving student achievement.
Supporting actors responsible for the maintenance of secondary schools in order to avoid the serious deterioration of buildings and ensure the sustainability of facilities. 
In Casamance, education for peace
In a region of Casamance marked by an identity conflict for 30 years, the project led by AFD echoes a proactive and sustainable public policy. The Government of Senegal intends to create the conditions for "the construction of sustainable peace, justice and human security" on this strip of land located between Gambia and Guinea-Bissau. 
AFD is participating in this project for reconciliation and socioeconomic reconstruction in the region by helping to make up for the lag in basic education – primary and secondary education – built up over the past decades. 
The program's primary objective is to improve reception and teaching conditions for students in the Sédhiou and Ziguinchor regions. It also involves improving the quality of learning and basic skills of students. The third objective is to improve academic management, as well as school management, with the full involvement of local authorities and communities.
 
The project also aims to tackle disparities in schooling conditions for students and improve student learning in basic disciplines. It will, at the same time, build the capacities of teachers thanks to a local supervision mechanism.