+ 50%
of women employees at Eker Süt in two years
100%
of the staff sensitized to gender equality
EUR 3.35m
loan with 4-year maturity
A dairy product company near Istanbul has decided to hire more women and organize awareness-raising workshops for staff to raise awareness around gender stereotypes. This pilot project, supported by AFD, is a real success: there has been a sharp increase in the number of women employees and a corresponding reduction in prejudices.
You can see the difference simply by walking around the production chain. Between the bottles of milk and flavored yoghurts, women operate machinery, carry pallets and make sure on screens that operations run smoothly. At Eker Süt, the Turkish subsidiary of Andros Group which is specialized in dairy products, women do everything just like men, from the office to work on the production chain.
This gamble was far from being sure to pay off. Culturally, Turkish society is not the most open to women working. But the Human Resources Department at Eker Süt has achieved a breakthrough. With support from the Turkish development bank TSKB and AFD financing, the Human Resources Department of the company based in Bursa has launched gender equality awareness-raising workshops attended by all staff members at the factory. In addition, women now have a seat on the Disciplinary Boards and women employees are encouraged to be candidates at staff representative elections. There is also a nursing room for women who have a baby.
 
"Our job offers are no longer gendered ", explains Ahmet Aydin Akyol, Human Resources Director. "For example, we no longer write that we are looking for a man to do a certain job but a person. We believe that there is no job that a woman can't do". 
 
Just a year after the launch of the program, 118 women are working in the factory,  as compared to 78 before, out of a total of 1,500 employees. "Our vision has changed", says Ahmet Aydin Akyol. "We had already been thinking about this, but it was the financing which helped us put our ideas into practice." The project partners consider it to be a success: "As a Turkish woman, I am proud to be managing this project", says Derya Özbudak Başdelioğlu. "And more so considering the impressive results !" 
 
We have learned not to differentiate between women and men.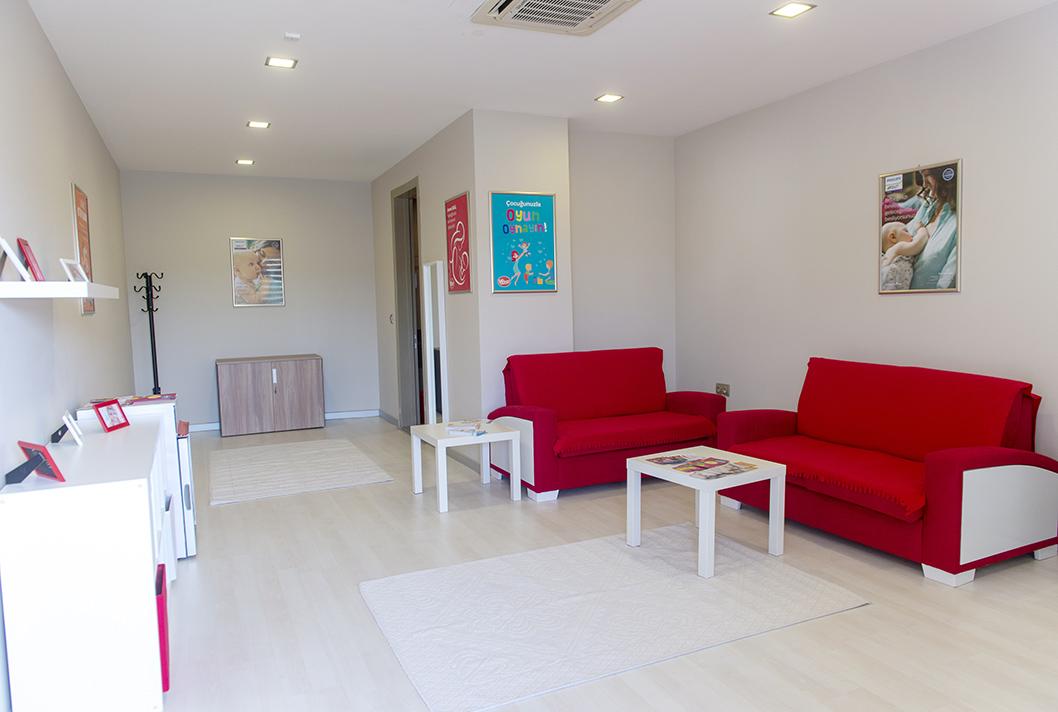 © Yasin Akgül / AFD
THE NURSING ROOM: AN ESSENTIAL FACILITY  
The nursing room, which has been set up on the premises of Eker Süt, provides women who have just given birth to their child with a quiet and safe place. Thanks to this room, they are able to return to the labor market, while being a mother in good conditions.
It is a small brand new room, a little bit away from the production line. It is quiet with dimmed lighting and allows women to sit down for a few minutes when they want to. It is a salutary place for all these young mothers, as to return to the labor market while continuing to breastfeed, they need to be able to express their milk. If there is no suitable room, many women give up and drop the idea of going back to work until the child is weaned.
"As soon as this room opened, we communicated the news to our women employees, who now know that this place exists in the company and that they can benefit from it", explains Hatice Özdemir-Cakir, assistant in the Human Resources Department. "Our nursing room has been open since March 2018 and three of our employees are currently benefiting from it. But we have a number of employees on maternity leave at the moment who will be able to benefit from it when they return." 
Hatice Özdemir-Cakir could herself have benefited from this facility, which is compulsory in Turkey but rarely implemented in practice: "I have a six and a half years old daughter. She was only five months-old when I went back at work. I was in another company at the time and it was really difficult for me to express my milk and store it properly", she says. "The fact that there is a place like this is a guarantee for me. I know that if I have a second child, I'll be able to benefit from this room and all its advantages."
 
PROVIDING FACILITIES FOR AUTISTIC CHILDREN
 
Being a model for dealing with gender inequalities has led to reflection in other areas of inequalities. "By analyzing the way we consider gender inequalities, we have also started to question ourselves about the issue of disability", confirms Ahmet Aydin Akyol, Human Resources Director at Eker Süt. 

For example, three young autistic people have been recruited, with an adapted work schedule. "They work in the morning and do activities in the afternoon, in partnership with the City Hall, such as horse-riding and walks in the city center", explains Ahmet Aydin Akyol. Employees are also there to assist them. This is a way of giving some peace of mind to their families, who are sometimes worried about seeing them leave the bosom of the family. 
 

The company has completely redesigned its management of space to receive these new employees. There is a special area for autistic employees, who have a rest area next to the room where they work. The sign system has also been implemented all over the factory. For example, stickers have been put in the corridors to indicate which direction to walk in and a hand symbol has been stuck on the doors. "This allows them to find their bearings and know how to adapt their behavior to everyday furniture", points out Ahmet Aydin Akyol.
 
AN EXAMPLE OF A SUCCESSFUL PARTNERSHIP AT IDFC
AFD and TSKB are both members of the International Development Finance Club (IDFC), the club of the 24 largest development banks in the world. IDFC was set up in 2011 and has been chaired by Rémy Rioux, Chief Executive Officer of AFD, since October 2017. It implements the Sustainable Development Goals (SDGs) and the agenda of the Paris Climate Agreement. Its members work together and coordinate with each other to provide a platform designed to promote and mobilize solidarity-based development investments at international level. 
In practical terms, AFD has made EUR 70m available to TSKB to set up gender equality actions in Turkey. The Turkish bank has taken up the task of finding the right candidates, which include Eker Süt. The agrifood company is benefiting from a EUR 3.35m four-year loan, which reaches maturity at the end of 2021. 
Alongside the Turkish project, TSKB has focused on the in-house practices of IDFC members. The Istanbul-based bank is consequently conducting a study aiming to identify the strategies and performance of IDFC members in terms of jobs and in-house practices that are favorable to women (HR management, promotion, working environment, the issue of harassment).
Eker Süt wants to continue its policy of openness towards gender equality. "This additional 50% of women staff in a year is just the beginning. We plan to increase this figure: when we need to recruit new employees following departures or an investment, we will mainly recruit women", promises Ahmet Aydin Akyol. His new plan is to open a crèche. "With the number of employees increasing, says the manager, this requirement is becoming more apparent." Naturally.
---
Further reading: AFD and Turkey