Marguerite Abouet: "Our stories are just as exciting as in 'Dallas'"
published on
20 September 2018
She has set herself the task of recounting Africa differently. Marguerite Abouet – who came to AFD on this 20 September for a discussion and autograph session – was exiled in France when she was still a child. She started writing very early on, then putting her stories into drawings before moving on to TV series. Each time, she deconstructs the clichés, opens the eyes of her public and seeks to give Africa the means to depict itself.
You arrived in France in 1983, at the age of 12. Do you remember your first impressions?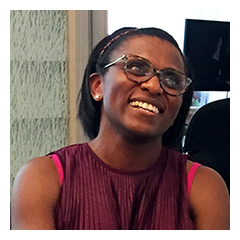 Marguerite Abouet: I was reluctantly torn away from my country, my neighborhood. My girlfriends said to me: "Just stop crying, you are going to meet your Rahan!" I got off the plane in Paris and I didn't see a Rahan… People were fully dressed , they didn't have long hair. I was so disappointed! And then we were told that it was so cold that water froze in contact with air. It was 30 August and it wasn't cold at all (she laughs). 
I wanted to meet people, but I rapidly wondered: "Where are the French?". They were in their closed houses. It was a shock for me who was used to wide open doors. It was hard. Over the years, I started writing like we start therapy. 
What did you want to say with the comic strip character "Aya de Yopougon" who made you famous?
I had a lot of friends who didn't know Africa, who had a completely mistaken idea about it and prejudices. They wondered how young Africans lived. I wanted to show that young Africans have the same problems as young French people. The idea was to share something, especially get away from the clichés, stop this widespread belief that we all die from terrible diseases or war, and that we don't have a daily life. Whereas we also have parents who don't want us to go out, girls go out with boys, etc. I really had to change these misconceptions. I didn't know the Africa shown by the media here in France, it wasn't my daily life.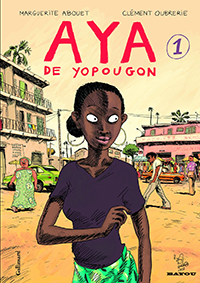 Can you tell us about "C'est la Vie" (That's Life), your TV series produced in Senegal?
It's an incredible project. I was skeptical at first, as for me it was another educational project about these Africans who still need to be educated. In reality, the producer, who has been living in Africa for a long time, convinced me that his approach was based on a different logic of information about health through entertainment. 
And then he convinced me with the figures: they are so huge, on child mortality, excisions, unwanted pregnancies, etc., that I said yes. I wanted to work with Africans, for Africans, with young African girls in making it, actors and actresses from here, and that's what we do with this series. With the complicity of the creator of the series "Plus Belle la Vie", we have even built outdoor studios in a neighborhood of Dakar, revolving sets, it's a first. It's all about training, developing African infrastructure and talent, this is also what appealed to me. 
The aim is to recount a different Africa. Which one? 
First of all, I wanted us to take ownership of our screens. We were lulled by American series. When you look at the faces of Africa, you see young girls who want to look like Western actresses so much that they literally strip their skin, or wear huge wigs. Yet we have our stories, which are just as exciting as in Dallas. It's up to us to stage them and propose them to the public. 
Is taking ownership of the production chain and the skills of these professions related to the audiovisual sector also a way of participating in Africa's outreach? 
The aim is to train local talent in these professions of direction and production. You can't be competitive if you don't master the techniques. 
It's vital, as I'm sick and tired of African stories not coming out. "C'est la Vie" has been screened in Europe. Women have told us: "It's really great, we learn so many things!". For example, they discovered the fact that there are about a dozen contraceptive tools for women thanks to the series. So, yes, we are now able to produce high-quality things in Africa. We just need to have confidence in our youth, which is just waiting to learn. 
---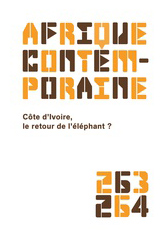 For further reading:
The latest double issue of the review Afrique Contemporaine, Côte d'Ivoire, le retour de l'éléphant ? ("Côte d'Ivoire, the Return of the Elephant", illustrated by Marguerite Abouet)
 
---