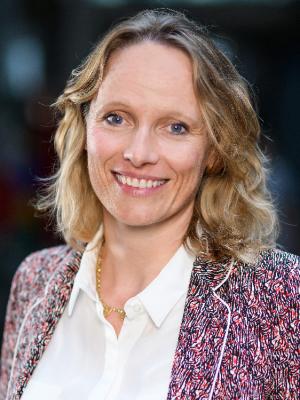 Head of the Social Link Unit
Expertise
Social Cohesion, Sport, Cultural and Creative Industries, Gender Equality, Financing for Development
Overview
Laëtitia Habchi is responsible for the implementation of AFD's new 100% Social Link strategic project and for managing cross-disciplinary issues such as sport and development, cultural and creative industries, and gender equality. 
As part of its 2018-2022 Strategic Orientation Plan, AFD has committed to supporting these issues, which it considers essential vectors of development. Sport and the cultural and creative industries can have an impact on economic growth and social cohesion, as well as on community health, citizenship education and the fight against gender inequality.
Before taking up this position, Laëtitia Habchi implemented a number of projects for AFD in Africa, notably in Senegal, Egypt and South Africa. After working on the South African government's Black Economic Empowerment initiative, she was seconded to the Development Bank of Southern Africa from 2010 to 2013. She then worked at the Nepad Business Foundation (NBF) until 2016, a foundation that promotes sustainable development in Africa.  
She was then given the opportunity to implement projects in several key development sectors such as infrastructure, education, environment and microfinance, and to contribute to several scientific publications on emerging African countries and the goals of the BRICS nations. She has also gained experience organizing complex projects involving other development agencies and public-private partnerships. 
Upon returning to AFD in 2017, she continued to focus on Africa, this time taking on projects in Algeria and Palestine. After moving to AFD headquarters and the Social Link Unit in June 2018, she was initially responsible for defining the new Sport and Development strategy and for overseeing its implementation. 
She launched a platform bringing together sport and development actors, as well as other partners, with various French and international sports federations and leagues, including the NBA, FIFA and FFF.  Appointed Head of the Social Link Division in September 2020, she now has a wider remit to deal with a number of fields, such as cultural and creative industries, gender equality and social links.
Other publications
Media appearance in English
Media appearances in French