Library
3 result(s) for your search
levels of inequality in many countries in the region. Reducing maternal and infant mortality, countering the spread of HIV, improving farmers' productivity, increasing access to high quality education are
a
few examples of AFD's work to improve social inclusion. These initiatives are in line with AFD's mission to improve access to basic social services and economic opportunities, ultimately reducing poverty and inequality.
Published in September 2018
Africa's natural wealth is enormous. Growing investments in infrastructure and
a
better business climate are helping to translate this wealth into productive physical capital. The continent's large and growing youth population could also promote economic growth. However, what slows Africa's social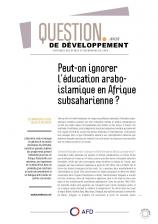 Arab-Islamic education in general, and Koranic schools in particular, are still largely excluded from programs advocating for education for all in Africa. Consequently, recognizing its existence, its importance and its diversity is
a
prerequisite for building
a
consultation framework and
a
dialogue between all stakeholders.
Published in January 2018