Library
55 result(s) for your search
enabling the preparation and implementation of the City of Johannesburg's spatial development strategy. The intervention was implemented after
a
similar intervention was conducted with the City of Cape Town. The evaluation noted that the combination of funding and technical cooperation for strategic
Published in November 2018
enabling the preparation and implementation of the City of Johannesburg's spatial development strategy. The intervention was implemented after
a
similar intervention was conducted with the City of Cape Town. The evaluation noted that the combination of funding and technical cooperation for strategic
Published in November 2018
Publication institutionnelle
Downloaded 98 times
Indonesia is one of the world's most biodiversity-rich countries and home to the planet's second-largest forest area. Made up of countless islands, it is particularly vulnerable to the consequences of global warming.  Today, Indonesia has become
a
key actor in the fight against climate change and
Published in October 2018
Publication institutionnelle
Downloaded 84 times
A
partner of India since 2008, AFD works in agreement with Indian authorities to promote green and inclusive growth. It operates through loans to state and public enterprises, as well as through technical assistance programs. Our goal: To support sustainable urban development, energy transitions and ecological preservation in India through an integrated and innovative approach. 
Published in October 2018
Indonesia is one of the world's most biodiversity-rich countries and home to the planet's second-largest forest area. Made up of countless islands, it is particularly vulnerable to the consequences of global warming.  Today, Indonesia has become
a
key actor in the fight against climate change and
Published in October 2018
Publication institutionnelle
Downloaded 56 times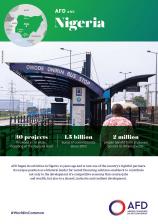 AFD began its activities in Nigeria 10 years ago and is now one of the country's rightful partners. Its unique position as
a
bilateral lender for varied financing solutions enables it to contribute not only to the development of
a
competitive economy that creates jobs and wealth, but also to
a
shared, inclusive and resilient development.
Published in September 2018
Publication institutionnelle
Downloaded 20 times
Publication institutionnelle
Downloaded 24 times
With its bountiful mountains, forests and waterways, Laos has plenty of assets for its development. For the last ten or so years, it has shown
a
high and stable growth rate, backed up by significant extractive and hydroelectric resources. AFD operates there chiefly in the sectors of agriculture, natural resources and preservation of cultural heritage.
Published in September 2018
Publication institutionnelle
Downloaded 30 times
AFD has been present in Armenia since 2012, financing development projects via sovereign and non-sovereign loans mainly in the sectors of agricultural and territorial development, energy efficiency, and infrastructure. In addition, AFD helps guide public policy reforms and has
a
mandate for proposing urban development projects.
Published in September 2018