Library
3 result(s) for your search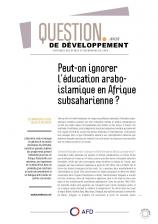 Arab-Islamic education in general, and Koranic schools in particular, are still largely excluded from programs advocating for education for all in Africa. Consequently, recognizing its existence, its importance and its diversity is
a
prerequisite for building
a
consultation framework and
a
dialogue between all stakeholders.
Published in January 2018
and rural markets have become roughly equivalent in economic importance, thereby both play
a
decisive role in local agriculture; grains and cereals make up less than half of people's average food consumption—these are the key takeaways of urban surveys on household consumption in West Africa, Cameroon and Chad between 2001 and 2011.
recently become an oil producer and the developing oil sector has quickened the pace of growth, which reached almost 15 per cent in 2011. This enhanced growth has resulted in
a
rise of per capita income levels and enabled Ghana to attain the status of
a
low-middle-income country according to World Bank rankings.