Library
2 result(s) for your search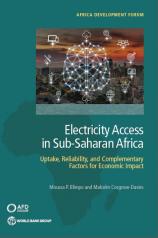 Access to reliable electricity is the backbone of any modern economy. It is even more important with the digital revolution. If African nations want to see their economies transform, the issue of electricity must be tackled head-on. Access is only the starting point, however. Expansion needs investment, too, and for that, utilities must make money. Yet all over the region, utilities are running at
a
loss.
through which agricultural economies diversify, and finally proposes
a
set of policy orientations that could facilitate the process of rural change. These include
a
clear need to engage in targeted development strategies at the regional level, to focus on staples and family agriculture, and to pursue
a
policy of "territorial development" that promotes strong rural- urban linkages at the level of rural localities, towns, and districts.
Published in January 2012