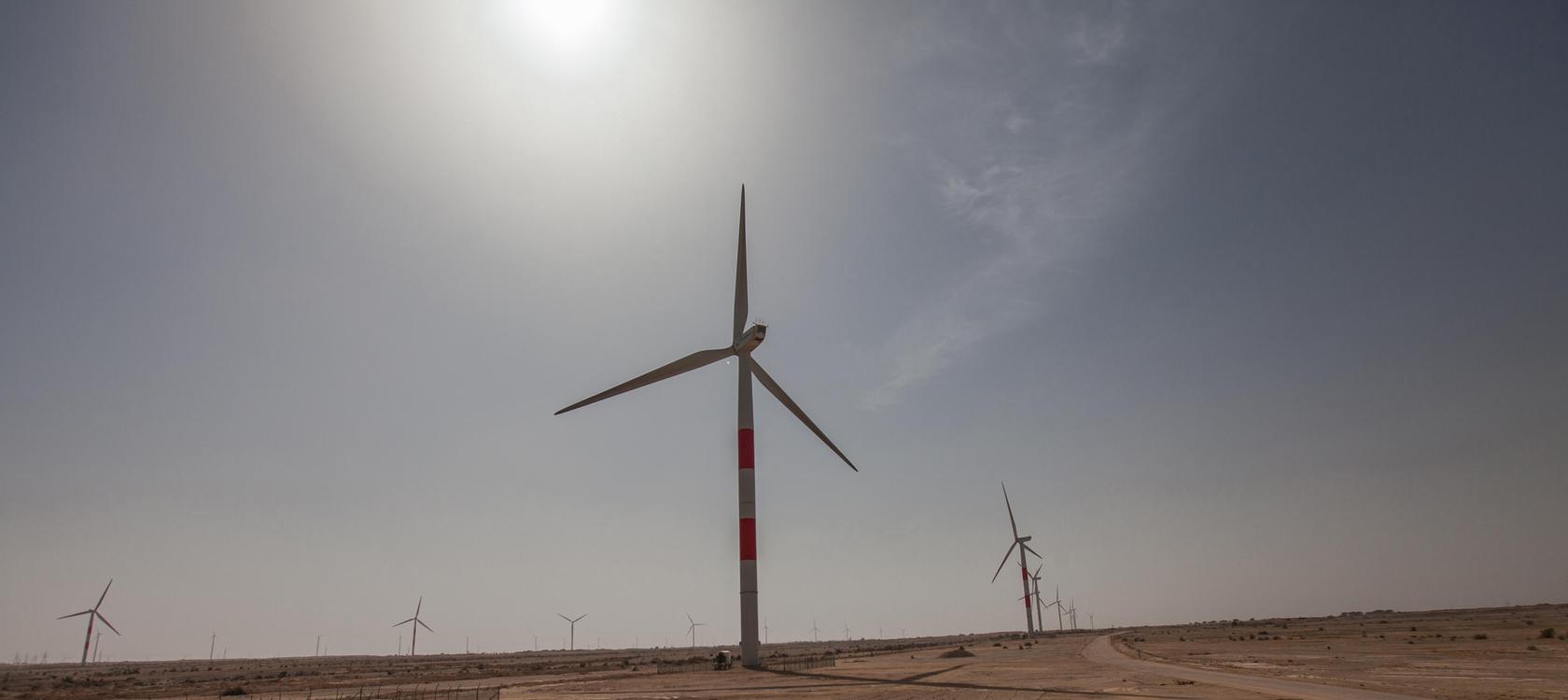 Pakistan:
winds of
hope
2.5%
of Pakistan's electricity is produced by wind farms
500
jobs created during the project's building stage
60 000
The equivalent of 60,000 tonnes of CO2 reduced every year
In Pakistan, a new wind farm was built in the province of Sindh. Developed thanks to AFD's private sector branch, Proparco, the project is a factor in creating local jobs and bolstering renewable energy in a country marked by a shortfall.
Pakistan's energy crisis may soon be nothing more than a distant memory thanks to wind turbines and the 13 farms that are already up and running in the country, with nine more currently in construction.
To meet its target of having 10% of the country's electricity generated by wind, Pakistan intends to push things further. Over the next few years, a number of wind farms are set to open, particularly on sites in places such as Jhimpir and Gharo, both of which are located in Sindh, a state in the country's south.
These projects are all backed by the AFD's and Proparco's "Green Growth and Solidarity" initiative, launched in 2015 and designed to support sustainable projects and programmes to fight climate change effectively.
 
ZEHRA ZAHEER, A TALENTED ENGINEER AND FIGUREHEAD

Pakistan's energy mix may not be the only change on the horizon. Winds of change are whistling through the ranks of engineers hired by the Gul Ahmed Wind Power Limited (GAWPL) group to work on the wind farm in the Jhimpir corridor. And this wind has a name.
Born in Karachi, a hundred-odd kilometres away from the site, Zehra Zaheer has always been passionate about electrical engineering. After studying engineering and technology in Pakistan's capital, she was hired by GAWPL a year ago.
"Most of my female friends have studied, but once they finish university they get married, have children, and stay at home," 23-year-old Zehra explains. "They're highly qualified, but don't work because their families are against it. I studied to be an engineer for four years. I need to put my knowledge into practice, experiment, test out my skills."
As the group's first female electrical engineer, Zehra Zaheer knows that she was chosen from among her university's ten top engineers "for a reason": "It's the company's way of fighting gender inequality in the industry."
Responsible for analysing data collected by the wind farm, and tasked with drawing up reports and solving technical issues, Zehra is also responsible for making decisions on future projects. "I hope I'll serve as an example, and that other women will join the team," says the young engineer who dreams of one day going back to school to become a technical manager. Nothing looks likely to stand in the way of the winds of change.
BOOSTING LOCAL EMPLOYMENT
When it comes to such major projects, financial backing is crucial. And recruiting a local workforce even more so, whether in high-added-value jobs or less qualified roles. This is where AFD and Proparco can be of help in the wind farm programme.
The wind farm's construction stage helped create 500 jobs taken up by Jhimpir locals, particularly in the construction and safety sectors. Warehouse and caretaker positions have also been created since the wind farm has been up and running