French Polynesia
Made up of a multitude of islands and atolls scattered over 5.5 million square kilometers in the Pacific Ocean, French Polynesia needs a new economic model that will overcome the limitations caused by its remoteness from major markets. AFD is supporting it on a path to sustainable development that reconciles the fight against inequality, the emergence of a new development model and the preservation and enhancement of its natural heritage.
AFD and French Polynésie: harmonizing the territory's economic, social and environmental development
Developing the territories
Preserving the natural heritage
Supporting the public and private sectors
Developing the territories
Preserving the natural heritage
Supporting the public and private sectors
610
million euros committed between 2012-2017
1300
Polynesian companies supported since 2012
Set in the middle of the Pacific Ocean, more than 17,000 km from its home country, French Polynesia is an overseas territory as vast as Europe but sparsely populated (fewer than 300,000 inhabitants). Its 121 islands and atolls, 67 of which are inhabited, are grouped into five archipelagos and are home to exceptional biodiversity.
Boosted by the activity of the Pacific Experimentation Centre between 1962 and 1996, the Polynesian economy had to find a new direction after the cessation of nuclear testing. But the fragmentation of its territory and its geographical remoteness isolate it from major markets and from France, which handicaps its economic activity. 
However, Polynesia also has great possibilities: a vast surface area of 5.5 million square kilometers and terrific tourist potential. Not forgetting the blue economy: although fishing (protected by a vast exclusive economic zone) and pearl farming have already proven their worth, the maritime potential is still underexploited.
The challenge for the community is to ensure that development is shared equitably. It must find ways to reduce inequality, resolve the unemployment crisis (currently 21.8%) and develop infrastructure.
AFD is a leading partner of French Polynesia. It works together with the private and public sectors to foster economic, social and environmental development, using appropriate tools such as loans, guarantees and advisory support.
Interactive map
This map is for illustrative purposes only and does not engage the responsibility of the AFD Group
See map of all projects
News & Events
Download
Research document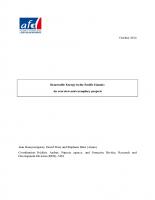 More largely, in the context of the fight against climate change, the subject of renewable energies takes on considerable importance. A large number of island States in the Pacific zone ...
Oct 2014