Laos
Laos is a mountainous landlocked country, but does have assets for its development. For the past ten years or so, it has had a steady growth rate, bolstered by substantial mineral, hydroelectric and agricultural resources. AFD mainly operates in the rural sector and heritage development.
AFD and Laos: Supporting rural development and developing heritage
Supporting rural development
Preserving heritage
Supporting the NGO network
Anticipating the future
Supporting rural development
Supporting the NGO network
Laos is today still classified among the least developed countries (LDCs). 
Its small population (6.4 million inhabitants), landlocked situation, mainly mountainous profile and turbulent history throughout the 20th century slowed down the country's development up until ten years ago. 
Yet Laos does have assets: substantial mineral and hydropower resources, low agricultural production, but very distinctive farmland and a political will to stand out for product quality. Its agricultural sectors often have organic certification and the policy to preserve its archeological sites pays attention to the integration of neighboring populations. 
However, there are a number of challenges: reconcile development with natural resources protection, ensure the sustainable development of cities, and promote rural development for the 65% of the population who work in the agricultural sector.
With the exceptional growth rate of 7% experienced by the country for the past 10 years, Laos needs to stay the course for harmonious development. 
AFD has been operating in the country since 1994. It pays particular attention to rural populations and NGO networks, which are already active in the field.
Interactive map
This map is for illustrative purposes only and does not engage the responsibility of the AFD Group
See map of all projects
News & Events
Download
Research document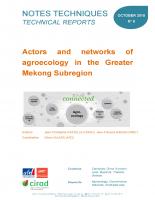 A comparative analysis of agroecology network led to a classification based on their conditions of emergence, their structure and governance mechanisms. The study points the strengths and weaknesses of the ...
Oct 2015
Research document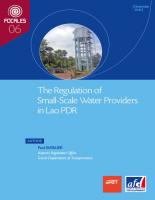 The question of how to oversee initiatives such as regulation of Small-Scale Independent Provider without hampering their innovation potential has been studied by AFD and GRET through a common research ...
Dec 2010
Video
The Mekong River is a common good... Fair sharing of this resource promotes peace and development. Since 2003, AFD has supported the Mekong River Commission (MRC), a unique cooperation area for ...
Mar 2018