2013
Creation of the start-up Kingo Energy
Since 2015
181,990
people connected to Kingo
By 2020
2 million
households equipped
In Guatemala, one inhabitant in ten does not have access to the national electricity grid. A local start-up now offers the Kingo kit, an innovative and off-grid box which produces cheap solar electricity. Over 15,000 households have already been equipped in the country. The start of an adventure which is changing the lives of the people it reaches.
The world seems empty when just one thing is missing. In Central America, where a significant proportion of the population cannot flick a switch when night falls, access to electricity is a major development challenge. Despite the significant progress achieved between 1990 and 2010, several million people are still not connected to an electricity grid. In Guatemala, over 300,000 unconnected households use candles, kerosene or a generator for lighting. This is unsatisfactory, dangerous and expensive. 
For a few years now, there has been a breath of fresh air in this country, thanks to a local innovation designed for the most remote areas of the country: Kingo, a smart box installed in about twenty minutes simply by connecting it to a solar panel. This self-generated power is totally disconnected from the national electricity grid and independent from centralized infrastructure.
Behind this magic orange box, there is Kingo Energy, a company set up in 2013, in which PROPARCO, AFD's private sector financing arm made an equity investment in 2016.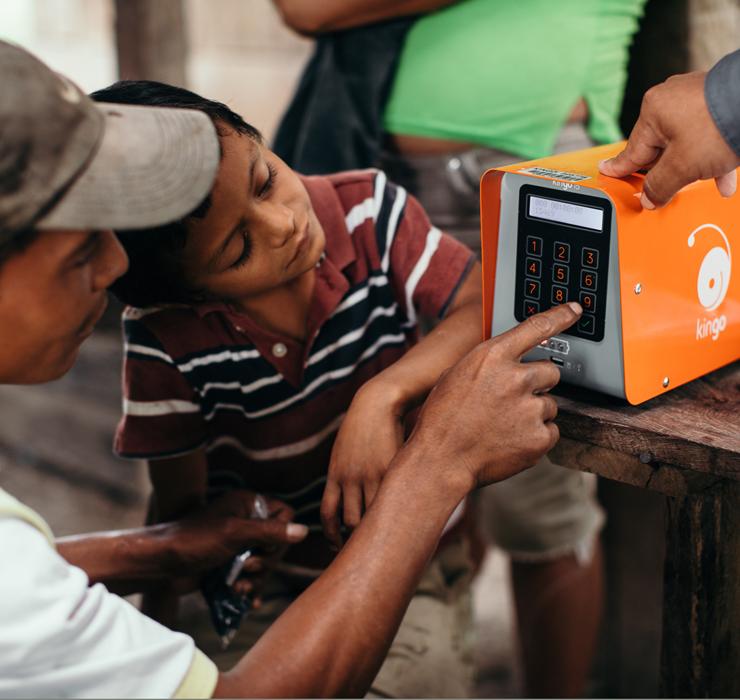 An operator installs the Kingo solar panel © Christelle Thomas / AFD
How does it work?
One of Kingo's major advantages lies in the fact that it is easy to use and install. To start with, an individual solar captor is installed on the roof of the house. The client signs a contract with no commitment, combined with the payment of time units, as with mobile phone recharges. Once the kit has been installed and the prepaid codes entered, access to electricity is unblocked.
The installation procedure does not use the phone network at all. So, Kingo can be set up in the most remote areas. The system also does not require the client to buy any equipment or pay for its installation. The package includes a guarantee and a permanent after-sales service provided by Kingo's teams. Clients simply need to call.
Clients can choose between two services: the first supplies three lightbulbs a day for five hours of lighting and a mobile phone can be recharged, all for 70 euro cents a day or 13 euros a month. With the second, you can light the main room of the house for five hours, recharge three mobile phones and supply two electrical appliances (television, computer, etc.).
International development
For Kingo's managers the needs of people and the market for the small orange box do not stop at the borders of Guatemala. After an initial fundraising of USD 13.5m, including USD 4m of loans, Juan Fermin and his team aim to raise a further USD 8m during a second fundraising, which would allow Kingo to be launched at regional level: in Colombia, Honduras, Nicaragua and Mexico.
Financial institutions and private funds: Pillars of Kingo
In a market where there are heavy investment needs, Kingo's development requires the commitment of financial institutions and the private sector. 
Everyone knows that it is going to boom, but nobody has yet found the magic formula to massively disseminate it. Solar energy is faced with a paradox: it is the recognized solution for people deprived of electricity around the world – with a market potential similar to the mobile phone. Yet investors are dragging their feet in going for it. In their defense, the investments required to equip homes in a country or continent are huge, in very rural or desert areas, which are difficult to access and underserved.
While up until now, no economic model has yet managed to take hold, Kingo firmly intends to change things. This is in particular thanks to the confidence of investors like AFD Group: "Our knowledge of the market and our adaptability allow us to make profitable investments, while closing poverty gaps", says the Director of Kingo Energy, Juan Fermin Rodriguez. "However, the financial needs being what they are, it is essential to be supported by partners who accept to take risks which local banks are not able to take."
Such a commitment is especially important in a country like Guatemala where the Government wishes to keep public debt to a minimum. In addition to the 80% decrease in the cost of solar installations since 2008, the support from international financial institutions and contribution of private capital will be the two drivers for Kingo's success. Well beyond Guatemala.