The ExPost evaluations present studies conducted by consultants and experts in the field. They aim to assess the relevance and impact of development projects and programs financed by AFD in the regions where it operates. The ExPost series emphasizes the need for accountability with regard to French public aid for development.
The MacroDevs serve as a point of reference for macroeconomic analysis and country risk assessment. These publications feature analyses conducted by AFD researchers and economists of macroeconomic issues associated with development processes, often focusing on a specific country or region.  
The MacroDevs are aimed at students and academics, country-risk specialists (such as investment banks), economic and political decision-makers, and investors.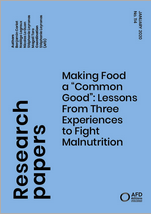 The Research Papers aim to disseminate the ongoing work of researchers from AFD or the wider academic world. They help to raise awareness of these projects and establish a foothold in the scientific development community. They are used to inform international academic debates on development-related subjects.
The topics covered include a wide range of economic and development issues.
Policy Briefs are succinct documents whose purpose is to promote dialogue, and the exchange of views on development issues. They help raise awareness of key issues highlighted by AFD among a non-academic audience, and particularly among political decision-makers. The briefs aim to inform debate on development issues and include public policy recommendations. 
Policy Papers outline public policy recommendations, presenting a clear rationale and adopting a "problem / solution-based" approach. This technique is then used to conduct an analysis of a particular region and/or development issue.
Policy Papers raise awareness of issues that AFD considers key, particularly among a non-academic audience. The papers seek to encourage public debate and inform decision-making. They are specifically aimed at political decision-makers, public institutions and academic experts. 
 
A Question of Development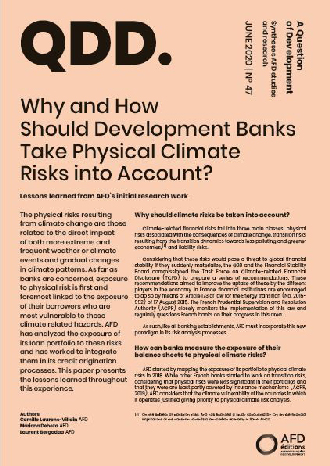 The collection A Question of Development presents summary reports of studies, evaluations and research launched or supported by AFD. It outlines and summarizes a problem or issue, the research methodology, the main results, and lessons learned.
It is intended for the development community such as AFD's partners, development practitioners, the media, teachers, researchers, students and civil society organizations.
Technical Reports contain technical, geographical and sector-wide information on a particular aspect of development and provide feedback on the data. They highlight reports, feasibility studies, case analyses and field surveys produced by AFD, which are full of valuable information, particularly for development practitioners.
The Policy Dialogues promote dialogue and debate on development issues. They provide recommendations for the elaboration and implementation of public policies. They take place exclusively within the framework of broad partnership programs.