AFD Digital Challenge: Celebrating 5 Innovations That Support African Women
The third AFD Digital Challenge recognized the achievements of five businesses that are developing digital innovations to benefit African women. The winning projects included applications to promote women's education developed in Nigeria, a Kenyan online platform that allows information to be shared between cross-border women traders and smart incubators in Cameroon.

In Africa, 21.9% of women have access to and use the Internet, compared with 28.9% of men. They also account for just 23.7% of parliamentarians in sub-Saharan Africa and 18.7% in North Africa. These two examples show that gender equality is still far from being achieved. In all areas (from employment to education, health and government), women face discrimination in Africa and beyond. However, they are recognized as offering a powerful, long-term driving force for development. With the impact of digital technologies producing a ripple effect throughout many key development areas (such as the environment, energy, education, banking and government), such technologies can be used as a tool to promote development in Africa and, more specifically, in the fight for gender equality.
Identifying, celebrating and fast-tracking projects by young innovative businesses to promote development in Africa
This is why Agence Française de Développement (AFD) wanted to support and encourage the solutions being developed to benefit women in Africa. By using digital technologies as a tool for development, these initiatives respond to the need to include women in society and the economy, as well as to the challenges involved in reducing gender equality.
 
By supporting exemplary start-ups that are leading the way in Africa's digital ecosystems, AFD is achieving its objective of promoting innovation through development, at this time of digital revolution.
 
15 applications were short-listed by AFD experts from among the 300 received, based on their relevance, sustainability and impact on development. A panel of judges made up of 6 digital technology experts then whittled this list down to choose the 5 winning projects.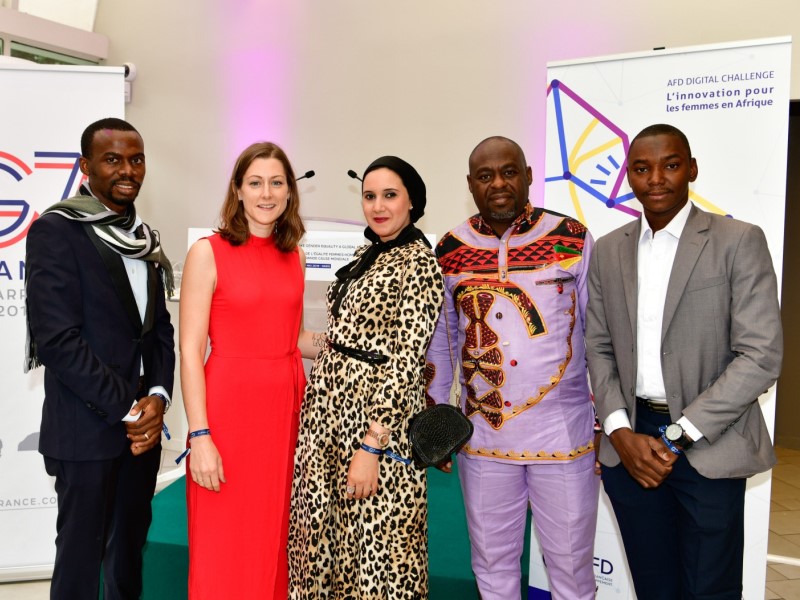 Each of the five winning start-ups will receive not only a cash prize, but also support over one year to ramp up their project. They will be monitored by an external incubator that will be selected following a tender process.
"Success" award: two winning start-ups (each receiving €50,000 prize money)

The Sauti Africa mobile platform was set up by two women, Mary Rowlatt and Julia Lipowiecka, to provide cross-border women traders with the information they need to trade their goods safely, legally and profitably throughout East Africa.

Small-scale cross-border trading is a key business activity for around 16 million people in the region and generates nearly US $2 billion a year. Making trading easier for women traders is a way of ensuring they can provide food for their children and enjoy secure employment, thus contributing to the fight against poverty.

Learning to drive in Egypt is no easy feat given the high volumes of traffic and apparent lack of any rules of the road. It is even more difficult for women as, just by getting into a car with a male driving instructor, they run the risk of harassment and sexual violence. Their means of becoming more independent are therefore limited.

The Direxiona platform was set up by Nayrouz Talaat, a business journalist and entrepreneurship graduate, to connect women who want to learn to drive with female instructors. Since its launch in 2016, Direxiona has helped more than 150 women learn to drive and overcome their fear of getting behind the wheel, with more than 10,000 lessons already taught. The aim is to reach 50,000 lessons by the end of 2019.
"Initiative" award: two winning start-ups (each receiving €15,000 prize money)

Elizabeth Kperrun, a communications, business management and entrepreneurship graduate, is the woman behind Zenafri, the business she heads up today. The idea for her project came from the simple observation that education is key to enabling young girls to make informed choices in any situation. From this came Zenafri, a business that develops educational games and applications for children and young African women.

Zenafri has developed three educational games since 2015: AfroTalez, First Words and Teseem. The aim of these games is to teach African languages and tell traditional African stories. Children go on to do better at school–where lessons are often taught in English–when they have already mastered their own native language. An interactive animated series and a game have also been specifically developed for young girls.
Agence Universitaire pour l'Innovation – Cameroon

In Cameroon, as in other low-income countries, 15% of newborn babies die each year as a result of being born prematurely. One of the reasons for this is a shortage of incubators. In Cameroon, there are fewer than 100 incubators available to more than 7,000 health-care facilities.

The Agence Universitaire pour l'Innovation (AUI), an association of engineers and academics, decided to tackle the problem head-on by developing a smart neonatal incubator. This incubator is connected to a digital system and fitted with an integrated phototherapy unit, sensors and a camera. Medical data are monitored and made available in real time via a mobile application that doctors can also use to adjust an incubator's settings remotely and check incubator availability. This has resulted in a marked improvement in the care of premature babies. The AUI's incubator was designed and manufactured in Cameroon, will be cheaper and comes with a two-year manufacturer's warranty, as well as technical support available throughout the country.
"Judges'" award: one winning start-up (receiving €20,000 prize money)

Only 10% of Mali's population is connected to social networks–a significant digital divide in a country where mobile technologies are becoming increasingly accessible. The reason for this apparent paradox lies in the fact that 60% of the Malian population is illiterate and cannot access these networks as they need to be able to read to use them. Lenali, a digital development company, developed the MussoDèmè online training platform to address this problem.

Its user-friendly interface can be accessed by a wide range of users thanks to voice guides that come in several African languages. It also includes resources to help women gain the knowledge they need to access economic assets, grow their businesses and achieve formal recognition for their studies. The project is the brainchild of Mamadou Sidibe, a network and systems engineer and Android developer, who hopes to make the platform available both on- and offline in the future.
 
---
Further reading:
AFD Digital Challenge: innovation for women in Africa