African Economies in 2021: Reasons for Optimism
published on
21 January 2021
For the second year running, AFD is publishing its outlook for Africa. Despite Covid-19 and the global economic crisis, some indicators look very robust indeed. In short, there are plenty of reasons for optimism in 2021.
What if, despite the global crisis, Africa surprised us once again? As the pandemic spread, the continent defied catastrophic predictions, by putting in place protective health measures across the continent, and avoiding the rates of infection that have plagued Europe and the Americas. As AFD CEO Rémy Rioux writes in the introduction to "L'Économie africaine 2021," Africa is "presumed to be fragile" but has already "proven its resilience." 
That's the premise upon which AFD develops its outlook for the African economy in this new book. In six chapters, AFD researchers and top Africa specialists sift through a range of economic themes, and challenge preconceived ideas. For example, they note that many countries in Africa, despite its regional disparities, share several distinctive economic features—and much more so than on other continents. These include a profusion of small-scale entrepreneurship, informal jobs on a massive scale, a youth population explosion, and a predominant agricultural sector.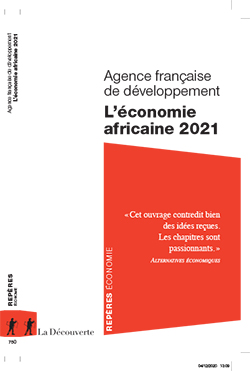 Defying the Doom-mongers 
It's precisely this set of distinctive features that today allows Africa, considered by many observers to be so "badly off" at the end of the 20th century, to look towards a better future. And this in the face of the greatest health and economic crisis the modern world has ever known.
Although the long-term consequences of Covid-19 remain unknown, the countries of Africa have so far been able to withstand an unprecedented shock. And even though Africa's decline in economic activity (-2.6%) marks a break with the growth of previous years, it's much less severe than what we can observe globally (-4.4%).

Today, the Covid Era... and tomorrow?
The authors raise a number of key questions: How can we satisfy the aspirations of a young population entering the labor market? As the leading source of employment in the region, how should the agricultural sector in West Africa reinvent itself to reconcile the two fundamental objectives of obtaining better yields vs. preserving biodiversity and the environment? At a time when the Eco is taking over from the CFA franc, how to weigh monetary stability versus flexibility?  
The role of youth
The foremost and possibly most vivid preconceived idea about Africa is poverty. But the authors point out that, between 2000 and 2018, the average annual gross domestic product (GDP) growth rate in African countries reached nearly 7.2%.
And although Africa's "poverty rate" (living on less than $1.90 a day) is still high at 37.9%, it has decreased by more than nine points. In fact, many big companies and international investors are changing their outlook. 
For many, Africa is now seen as a land of opportunity – and as a land with no labor shortage. Indeed, another special feature of the African economy is the proportion—and number—of youth in its population. One figure stands out: in 2070, one out of every two young people in the world will be African. But it's a major challenge to integrate these young people into the labor market: they'll have to be provided with many more jobs than are available today. These new generations will also be increasingly educated. Take, for example, the proportion of children attending primary: it has grown from 59% to 79% in recent years, thanks in particular to investments made as part of the Millennium Development Goals (MDGs) and Education for All (EFA).

Toward responsible agriculture?
Agriculture plays a dominant role in many African economies. On no other continent are so many people employed in the sector, with a figure reaching 54% in sub-Saharan Africa. Here again, it would be tempting to believe that growth should involve a shift to a world of services and industry. Yet, several studies indicate the opposite. To reduce poverty, growth in agriculture would be three times more effective than growth in industry.
But development of the agricultural sector currently faces many obstacles, such as soil impoverishment, pressure on available land, and climate change. The solution put forward and analyzed by the experts relies on a kind of third way, which would enhance the role of ecological agriculture. Whether it involves permaculture, climate-smart agriculture, or agroecology, these new models would make it possible to increase yields while reducing impacts on the climate and the environment.

A greater role for the State
The Eco will soon be here, but what about the other currencies? While many African countries are indicating a desire to make their exchange rate policies more flexible (following a trend observed more broadly in the world), almost all of these countries continue to peg their currency to another. The stakes are high though, because flexibility is a risk for monetary stability; and stability is the cardinal virtue for central banks. The solution will require both State autonomy and greater financial sophistication.
More broadly, in the economic and social sectors, the structuring role of the State can only be beneficial. Today, the frequent lack of regulatory frameworks and the poor quality of infrastructure (in transport and energy) hinder both local entrepreneurship and foreign investment. Moreover, at the continental level, concern for good public governance, coupled with respect for the law, will provide a framework that can only be conducive to the development of the African economy in 2021 and beyond.
---
The book, "L'Économie africaine 2021," is only available in French at the moment. 
---
Further reading