"Nature-Based Solutions": Making Nature an Ally
published on
22 January 2019
Health, food safety and environmental risks are just some of the social concerns that nature provides efficient, cost-effective and long-lasting solutions for. Innovating with the potential of the world around us is the goal of the "Nature-Based Solutions" concept. Let's have a look at what this means.
Who says that dams are the best way to optimally manage water resources? In the latest edition of his annual report, Stefan Uhlenbrook, who coordinates the World Water Assessment Programme (WWAP) for the UN, called for the development of innovative solutions based on "the use of the natural processes that regulate various elements in the water cycle."
Among other examples, the text mentioned Kenya, where landscape restoration—by terracing slopes, reforesting damaged land or planting strips of grass on farms located on the banks of the Tana River—should enable the improvement in the water supply to Nairobi, the country's capital, in the next few years.
Innovating with the potential offered by our environment is precisely the concept behind Nature-Based Solutions (NBS), an approach with a promising future. This idea arose from a simple observation: faced with major issues such as climate change, lack of water, insufficient healthcare, poor food supply and uncontrolled urbanization, nature tends increasingly to become our greatest ally. 
Just think about it. During 3.8 billion years, our planet has developed a dynamic and resilient balance that provides a breeding ground for solutions and a source of considerable innovation, which is nonetheless largely unexploited. Why? Because of a certain persistent mistrust towards nature and, above all, "wildness," that associates the potential danger it represents for humanity more than for the many benefits it can bestow.
"Since they came into existence, our ecosystem has evolved a multitude of solutions for survival," noted Isabelle Autissier, yachtswoman and President of WWF, during a conference on Nature-Based Solutions organized by AFD in Paris on January 7, 2019. "Have we found anything better than earthworms to purify the soil? And yet, humans have neglected to realize this, or even worse, have destroyed these natural mechanisms." 
---
Further reading:
See the report on the conference held on January 7, 2019 (in french)

The choice of co-building
Fortunately, attitudes change, bringing a new perception of nature and especially the relationship of humans to it. Rather than using a confrontational approach, NGOs and international institutions are now oriented toward the idea of "co-building." This was the context in which the NBS concept arose in the 2000s. The goal? Collect and promote all the daily solutions that our ecosystem uses or copy them to meet the numerous challenges we are faced with, while using resources in an optimal way.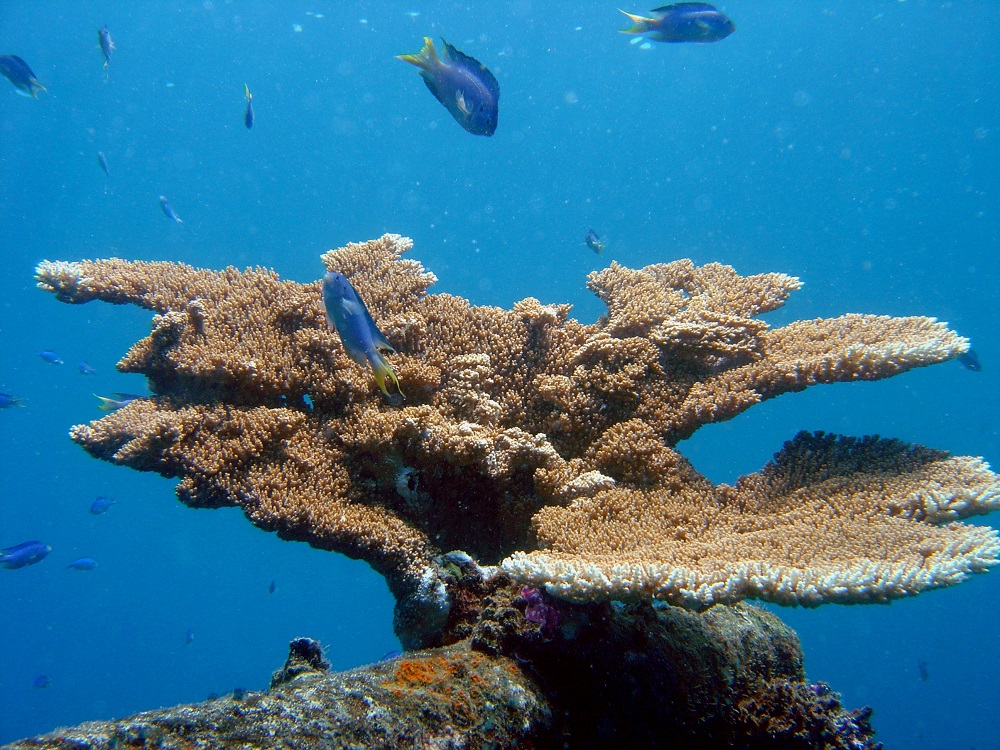 As the International Union for Conservation of Nature (IUCN) and many engineering offices and scientists have repeatedly demonstrated, nature is a prodigious source of very concrete solutions for issues as varied as water management, carbon capture and soil decontamination. 
Nature is a 100% circular, no-waste economy.
"Solutions for a large number of problems that we are currently confronted already exist in nature," continued Isabelle Autissier. "Nature-Based Solutions are an area of experimentation, as well as an opening and a considerable means of progress for humanity. These are forward-looking solutions because they increase resilience."
"The services provided by ecosystems are free of charge," adds Gilles Kleitz, Director of AFD's Department of Ecological Transitions and Natural Resources. "With Nature-Based Solutions, society as a whole, a company, a territory or a community can organize to look for specific services provided by nature and a way to maintain these services."
Solutions that are often less expensive
Although it is hard to deny that nature has a strong capacity for resilience, "green" infrastructures—that are inspired or arise from the use of ecosystems—continue to be perceived as less effective and less profitable than "gray" infrastructures. However, their advantages as compared to more traditional engineering solutions are many, notes Pauline Teillac-Deschamps, in charge of the Ecosystems program for the IUCN France committee: "Using these flexible and adaptable systems also avoids the impact on natural environments stemming from traditional engineering infrastructures and adapts actions to climatic uncertainty. Finally, they benefit biodiversity by including this goal in the design and implementation of actions."
 
Nature-Based Solutions represent an alternative that is often less costly in the long term.
This observation is based on the very positive results stemming from over twenty years of analyzing so-called "ecosystemics". This somewhat technical term refers to a simple idea: our planet serves us unfailingly. This has been demonstrated through numerous experiments in reforestation, sustainable urban development and coastal (dunes, lagoons, coral reefs, mangroves) or marine ecosystem restoration.
The restoration of a damaged forest enables greater carbon capture. It thus contributes to attenuating climate change while improving forest biodiversity. There are also considerable expected benefits from marine restoration. Although their short-term cost would require from 45 to 228 billion dollars in funding on a planetary scale, the long-term benefit, in particular for fishing and tourism, would be from 622 to 1,145 billion dollars, according to the Évaluation Française des Ecosystèmes et Services Ecosystémiques (EFESE, French Evaluation of Ecosystems and Ecosystemic Services).
Shenzhen, the world's first Sponge City
In this context, AFD and its partners participate in funding a number of NBS-associated initiatives, including the Sponge Cities project, designed to make Chinese cities more resilient in the face of climatic catastrophes. As a consequence of global warming, China has been confronted for several years with an increasing number of floods and landslides. To limit flooding and its impact on humans, the Chinese government launched a "Sponge Cities" pilot project late in 2015 that aims to develop 16 metropolitan areas by 2022 in a way that enables them to absorb and naturally divert surplus water.

In particular, this involves the creation of new green areas, planted roofs, absorbent ground covers and new wetlands. While reinforcing the resilience of these cities in the face of floods, the program should also enable increasing the water supply for local residents by recycling the water retained. In Shenzhen, one of the cities concerned by the program, the creation of terraced gardens has already led to a 65% reduction in excess water.
Moving forward
Could the success of the Chinese example lead to a generalization of Nature-Based Solutions in the country? This question was at the heart of the conference held on January 7. Participants agreed on the need to comply with two conditions for an effective implementation of Nature-Based Solutions: choose a long enough time span and adopt a long-term way of thinking.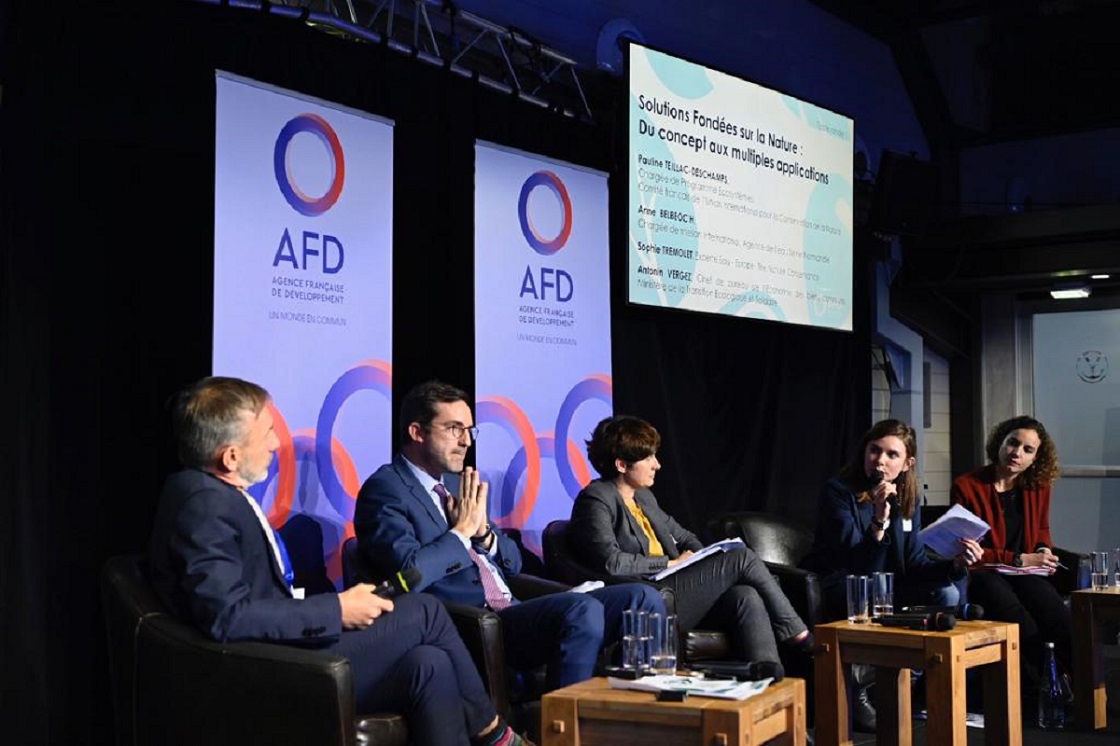 "Their deployment also requires reinforcing the evaluation of their impact and costs vs. benefits, designing financial products and making the appropriate economic analyses, as well as mobilizing expertise and trade-offs," states Gilles Kleitz. In the long run, this vast undertaking should enable placing "green alternatives" at the heart of development.
---
Further reading:
Mozambique Biodiversity and Development A Natural Alliance
Guiana Shield: Working Together To Better Protect the Amazon Rainforest