The Urgency of Adapting to Climate Change
published on
16 November 2020
All over the world, climate change is causing loss of life and serious environmental damage. And it's in the global south where the effects are most pronounced. As part of the Finance in Common Summit uniting 450 development banks virtually in Paris on 11 and 12 November, an online international panel including former UN Secretary-General Ban Ki-Moon, issued a resounding call for efforts to be scaled up. Solutions may already be within reach.
"This summit couldn't come at a more crucial time as we discuss sustainable ways to rescue the economy," said Ban Ki-moon, Chair of the Board at Global Center on Adaptation (GCA), and former Secretary-General of the United Nations. 
He joined Chief Executive Officer of CDC Group Nick O'Donohoe, Britain's former Secretary of State for International Development Anne-Marie Trevelyan and activist Nisreen Elsaim, a member of the UN's Youth Advisory Group on Climate Change. 
Elsaim told of a recent trip, which cast into sharp relief the dramatic effects of climate change in Sub-Saharan Africa.  Several weeks ago, torrential rains and flashfloods swept across her native Sudan, leaving more than 800,000 people homeless. 
"More than 100,000 houses were completely destroyed. And what breaks my heart even more, is that when I visited the people affected, I found that more than a third are internally displaced people or refugees."
Further reading: Finance in Common Summit, all our articles 
Many were already displaced by climate change. Additional extreme weather events forced them to move again. "So these people were vulnerable to climate change twice," said Elsaim. "And I think we will be affected not only twice, but hundreds of times." 
A conference video showed images of the destruction wrought worldwide by heavy storms, flooding, wildfires and desertification – extreme weather events that now occur with devastating frequency. 
 
Those Least Responsible for Climate Change Pay the Highest Price
"Climate related disasters have nearly doubled over the last two decades," said Amina Mohammed, UN Deputy Secretary-General in a video message, adding that the world is "way off track" from meeting the goal of the Paris agreement to prevent temperatures from rising by 1.5 degrees Celsius.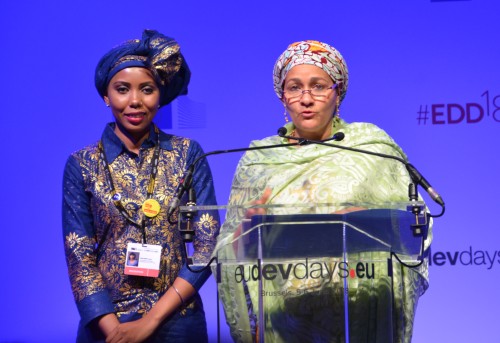 "Those who have contributed least to the problem – the poorest and the most vulnerable – stand on the front lines of the climate crisis and bear the impacts disproportionately."
Yet vulnerable communities are taking action. Atoll nations like Kiribati and the Maldives have planted mangroves and restored wetlands to protect their coastal areas. In Britain, the Thames Barrier holds back storm surges and high tides, protecting more than 1.3 million people and billions of pounds worth of property and infrastructure. 
In developing countries, such solutions invariably remain on a small scale. Amina Mohammed (pictured on the right at European Development Days in 2018) urged governments at all levels to consider climate risks "in all financial and policy decisions," and exhorted companies and nations to provide "proactive, preventive and systematic adaptation support…at scale." 
The ground may already be beginning to shift. "We are seeing an increase in the amount of funds specializing in adaptation," says Nick O'Donohoe. "We are seeing more opportunities to invest in things like drip irrigation, which helps use water more efficiently. And we're seeing more opportunities to invest in software start-ups that help farmers get better weather intelligence so they can track inputs and yields. 
"But if we are going to develop (these initiatives), we're going to need to work together to get funding to the right places where it makes the most difference. That's going to mean development finance; it's going to mean concessional capital."

Scaling up Adaptive Measures a Matter of Urgency
A World Bank Report found that investing in more resilient infrastructure in low- and middle-income countries would pay off, with $4 in net benefits for every $1 invested. On a global scale, that would amount to more than $4 trillion. "Creating new infrastructure, such as buildings and roads that are resilient to climate change and which can stand up to extreme conditions, adds relatively little to the total cost," said Ban Ki-Moon. 
Whether they emphasized issues of entrepreneurship, governance or finance, the speakers all agreed on one thing: that scaling up innovative solutions to climate adaptation and resilience has become a matter of global urgency. 
"Climate change does not respect borders," added Ban Ki-Moon. "It's an international problem that can only be solved with cooperation and collaboration across borders. That means we have to forge a global partnership. We must do what needs to be done while we still have time."