Creating a "Lynk" between Workers & Clients: One of the Biggest Digital Platforms in Africa
published on
01 September 2020
In our series on "Shared Innovation", AFD highlights innovative programs devised and developed in our partner countries.

Across Sub-Saharan Africa, most work is in the informal sector, where wages can be volatile and protection minimal. Kenyan start-up Lynk has launched a digital platform to connect workers with companies and households, providing them with more security, better work conditions and new career opportunities.
The informal sector is a major part of the economy in developing countries. Kenya's informal economy accounts for more than 80% of the country's workforce. From carpenters to coiffeurs, plumbers and furniture-makers, these artisans, entrepreneurs and laborers make use of personal connections and word of mouth to make a living.  
However, "workers are at the mercy of low wages, irregular work and few opportunities to build a career," says Akinyi W. Ooko-Ombaka, Director of Operations for Lynk, a Kenyan company that connects workers or "Pros" as they're known at Lynk, to households and companies seeking products and services. Once workers are checked and registered, they receive offers of work on the Lynk platform. This is part of the so-called "Gig Economy," where digital platforms match supply and demand.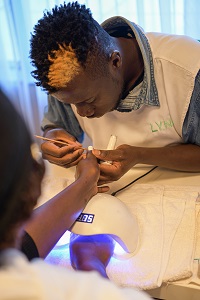 Employment Security Can Transform Lives
As an independent manicurist working out of Nairobi salons, 26 year-old Remington Ochieng was struggling to find enough work. "While I had flexibility, I had to find potential clients to try out my service," he says.
"This took a lot of time out of my day. I wasn't making enough money to even come close to breaking even. I wasn't even able to take care of my daughter or live with her because of how unpredictable my income was."   
Remington heard about Lynk, and became one of 3,000 people to sign up since the company launched in 2015. 
"After joining Lynk things changed drastically. I went from making $12 on a good day to $40. They helped me buy materials – something I didn't have before. I'm now able to provide for my daughter, and service both Lynk and non-Lynk clients. And I can work on perfecting my craft."
A Virtual Marketplace 
Charging a 10% commission, Lynk's digital platform is a virtual marketplace, offering services in 80 different categories, allowing skilled workers like Remington to find new customers and raise their profile.
The company also provides training and access to tools, equipment, and finance, for a fee. While in the informal sector, unscrupulous employers sometimes fail to pay the full amount, Lynk's digital platform guarantees payment. 
Customers on the other hand, can use Lynk's star rating system to find the products and services they need. 
One of the Biggest Platforms for Labourers in Africa
"Unlike most job-matching solutions that target mid-level or technical hires for formal work, we exclusively target blue-collar professionals, who have little to no engagement with the digital economy, and enable them to build effective businesses," says Ooko-Ombaka. 
To help start-ups in Africa raise funds that are often in short supply, AFD Group invests directly and indirectly in small and medium enterprises across the continent.
 
Its subsidiary Proparco has invested in a fund managed by Novastar Ventures, which, declares its website, "is dedicated to finding and supporting the next generation of exceptional entrepreneurs." Its East Africa Fund invests in start-ups like Lynk. 
"This fits our mandate perfectly, which is job creation – especially job creation for low income communities," says Tom Rostand, Proparco's Senior Investment Officer for East Africa. "They don't have the means to sell their products on a large scale to households and businesses, so they have huge problems accessing a regular income stream." 
More and more people are finding a way to overcome those problems, in Kenya and beyond. Lynk has grown to become one of the largest platforms for blue-collar workers on the African continent.