How two Cities are paving the way for Urban Biodiversity Conservation in India
published on
02 November 2021
Urbanization and land use will be key topics tackled at the Cop26 climate summit beginning on Sunday in Glasgow. India, home to some of the world's most populous cities, is working on modes of urban development that make more space for nature. We look at the AFD-supported CITIIS program, which promotes greener, more sustainable urban development. At opposite ends of the country, participating cities Surat and Bhubaneswar are at the forefront of a movement to preserve and enrich urban biodiversity, using innovative and participatory programs.
The world population will balloon to 9.7 billion by the year 2050, with some 68% living in urban areas, according to the United Nations Department of Economic and Social Affairs. In a business-as-usual scenario, these figures will lead to increased construction and changes in land use, greater pressure on existing natural resources, diminished green cover and a dip in the quality of air and water. Which prompts the question: how can we build cities that make more space for nature and safeguard biodiversity?
The CITIIS program (City Investments to Innovate, Integrate and Sustain), launched by the Government of India with the support of the EU and AFD, aims to promote sustainable urban development. Two projects under the program – the Wild Valley Biodiversity Project in Surat and the B-Active Project in Bhubaneswar, are rejuvenating stretches of land and waterways with an eye to protecting their ecological balance. 
Planning for sustainable development
Despite being at opposite ends of the country, Surat and Bhubaneswar share a common goal: both cities seek to develop more urban green spaces and improve the quality of life of their residents. 
In India, increasing urbanisation has had a direct impact on the populations of local flora and fauna. The house sparrow, for instance, has disappeared from many Indian cities due to habitat loss and pollution. But built landscapes do not have to be so inhospitable. This is the idea at the heart of the Surat project, which is turning the urban wasteland around the 3.5-kilometre-long Kankara Creek into a lush biodiversity park spread over 86 hectares of land.

The creek, which passes through at least five neighbourhoods in the city, has deteriorated over time and become a dumping ground for trash. To counter this problem, the Surat Smart City Development Limited (SSCDL) it turning to phytoremediation – a technique that uses living plants and soil microbes to remove or reduce contaminants in the immediate environment. As part of the project, close to 600,000 saplings spanning 85 native species will be planted in the Wild Valley Biodiversity Park. This will not only prevent water pollution; it will improve air quality and reduce malodour. 
"Cities have rapidly become concrete jungles with fewer open spaces. Converting wastelands into usable land, integrating…open spaces and water bodies, and developing vast green stretches by planting native species is a dream come true," says Dr. Rajesh J Pandya, General Manager for Transit and Advisor at Surat Municipal Corporation. 
In the Kankara Creek area, some natural depressions tend to overflow during the yearly monsoons. Now, under the CITIIS plan, they will be redesigned to serve as interconnected water retention ponds, and used as a catchment basin during heavy rains and floods. Such ponds can act as habitats for birds and other species, creating a biodiversity hub in the city.
While Surat will benefit from urban forestry, Bhubaneswar will enhance its green cover by reusing its waterfront sites for urban agriculture and horticulture. The city is blessed with an aquatic ecosystem with a high groundwater table and a network of 11 natural drains. The B-Active project will be located on vacant or underutilised land along two of these drains, which run through the city centre.
Over the years, in the absence of a robust maintenance mechanism, the water in the channels has become polluted. The main culprits are garbage and debris disposal and sewage from private properties. To revitalize the area, Bhubaneswar Smart City Limited (BSCL) envisions a waterfront promenade project, which will combine urban agriculture and solid waste management. According to their plans, a diverse variety of food crops will be grown on a rotational pattern, with minimal use of insecticides and pesticides to maintain soil quality, and all biodegradable waste produced will be either put to use on the site or sent to a micro-composting centre.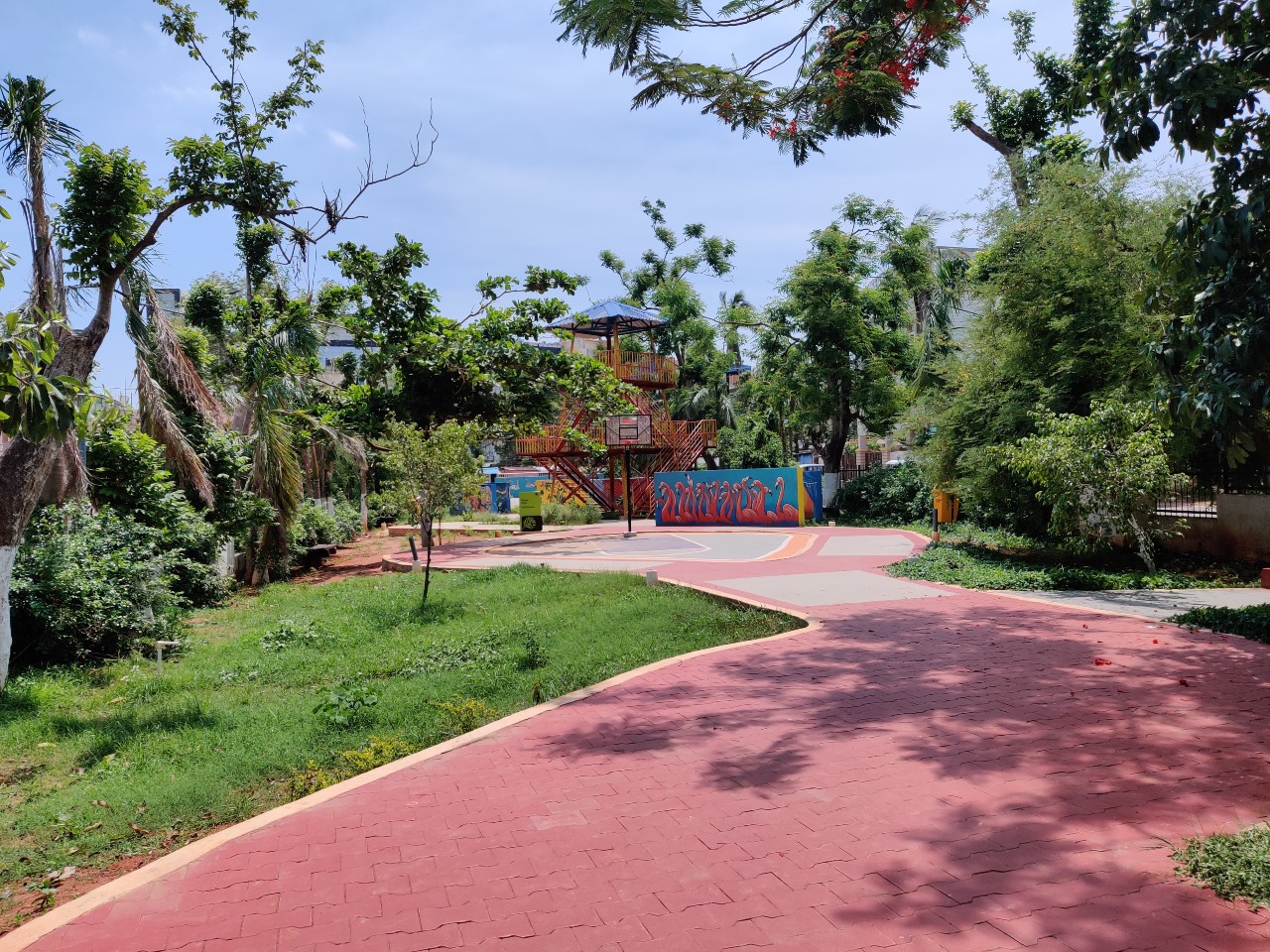 Innovative approaches to forestation 
Given the high density of Indian cities, SSCDL is making the most of each acre of land using the Miyawaki technique – a method for urban afforestation pioneered by Japanese botanist Akira Miyawaki that involves planting two to four trees of diverse native species on each square metre of land in a way that they receive sunlight only from above. As a result, the trees grow upwards, leading to a denser canopy within a shorter period. An urban forest planted using the Miyawaki method can grow within 20-30 years – as compared to a conventional forest, which can take anywhere between 50 and hundreds of years to grow naturally. 
In the Wild Valley Biodiversity Park, each meter square of land will contain a combination of a shrub, a slow-growing tree, a canopy tree, a columnar tree, a small tree and a low tree. The staggered heights and diversity of plant species will maximise their chances of growth. True to the method, tree planters will select species native to the state like the whistling pine, neem, siris and roheda, using soil enriched with perforators made of organic materials like biomass and grain husk, water retainers, fertilisers and microorganisms.
The plantation is thus expected to grow 10 times faster, 30 times denser and become relatively maintenance-free after just two or three years. This will lead ultimately to lower temperatures, lesser pollution, more local birds and insects, and a carbon sink in the middle of the city. 
Connecting citizens with nature
Project B-Active is also aiming for the optimal use of land – Bhubaneswar's most prized resource – by using the proposed lot for multiple productive programmes, including community-led agriculture and gardening. Entrepreneurs will be encouraged to sell fresh organic produce, seeds, saplings, herbal teas and plant-based extracts. Nor will the benefits be strictly economic: people from different socio-economic backgrounds will likely mingle in the marketplace, creating the conditions for an exchange of ideas. Workshops will allow Bhubaneswar residents to enjoy hands-on experiences and learn more about how nutritious food is grown and who grows it. 
This 'living classroom' will facilitate the exchange of knowledge between rural and urban areas, between nature and the city. The hope is that more people will use the Biodiversity Park or waterfront promenade for example, thus increasing engagement with the environment and providing incentives to preserve the area's biodiversity. 

"Access to green open spaces can improve the quality of life of people as it substantially enhances physical as well as mental health," says Naim Keruwala, Program Coordinator and Team Lead-CITIIS at the National Institute of Urban Affairs in India. "It also helps in building a connection with the city and its communities. Surat and Bhubaneswar are the embodiment of this principle as they are building innovative and sustainable public open spaces that will result in planting over half a million trees within the city boundaries, directly benefiting over a million residents." 
Towards a greener future
The projects also answer a call issued at the UN Conference on Housing and Sustainable Urban Development in 2016, which urged cities across the planet to "protect, conserve, restore and promote their ecosystems, water, natural habitats and biodiversity." 
The Wild Valley Biodiversity Park and B-Active projects are taking two more cities towards this goal, and setting an example for others. 
"May we grow many such green patches, wherever we are," says Bhubaneswar Project Manager, Diptirani Sahoo, "to live, let live and live on – even after we are gone."

This project is carried out with the support of the European Union.