Overhauling Bangladesh's Factories, 10 Years on from the Rana Plaza Disaster
published on
20 April 2023
The collapse of a factory complex in Bangladesh ten years ago, which killed more than 1100 people, was a stark reminder of the deadly conditions in which factory workers produced name-brand clothing for consumers around the world. Since then, factories have made major improvements to worker safety and well-being, with support from AFD and other European development agencies. Ten years on from the Rana Plaza disaster, we take stock of one major initiative.

Textile laborers were busily making clothes for brands like Zara, Primark and Benetton on 24 April 2013, when the ageing, cracked walls around them collapsed, killing close to 1130 people and injuring more than 2500. It's the worst such disaster to have struck Bangladesh – the world's second largest exporter of Ready-Made Garments (RMG), after China. 
Yet the dangers were not new. Hundreds of workers had lost their lives in Bangladeshi factories and warehouses in the previous decade, due to factory fires, collapsed buildings and other accidents. Faulty construction so endangered workers that the buildings "would shake when machines were switched on," according to the country's chief public prosecutor.
Ten years later, are workers safer? 
Following the Rana Plaza collapse, the Bangladeshi government and its partners signed the program to Support Safety Retrofits and Environmental Upgrades (SREUP) in the Bangladeshi RMG Sector.  As part of the program, AFD has provided a €50 million Credit Facility to Bangladesh Bank, the country's Central Bank. German's development agency, GIZ, German bank KfW and the European Union Investment Bank's Asia Investment Facility have provided €13.3 million worth of technical assistance.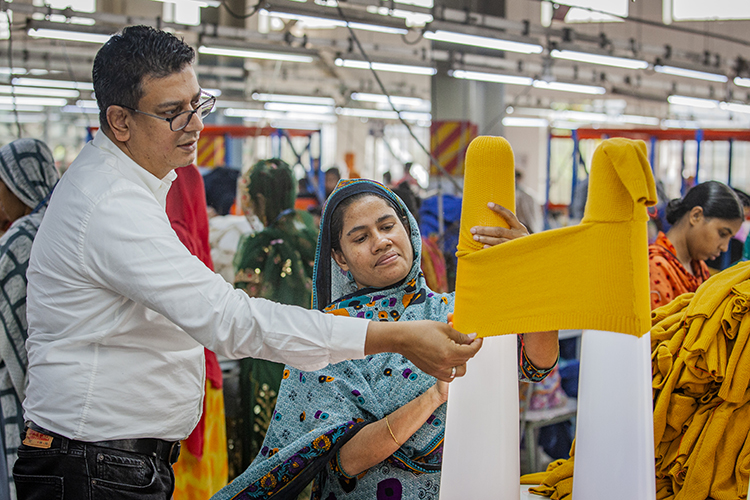 ---
Further reading: Supporting Bangladesh's transition to a Greener Economy
---
With four factories across Dhaka and more than 19,000 workers, Snowtex Apparels Ltd specializes in everything from sewing and embroidery to printing and laser cutting. Snowtex has used SREUP funding to improve fire and electrical safety installations. Wide fire doors line the entrances on every floor, fire protection equipment (such as extinguishers) is visible, and workers are equipped with safety gear including gloves and footwear. Buildings have also been retrofitted and equipped with more energy-efficient machinery. But the safety measures don't stop there; they extend to the personnel, too. 
"I am very satisfied with the skills and development training I have received here," said Mehedi Hasan, Snowtex's Quality Inspection Officer, who monitors safety measures and ensures that workers are safe and at ease with the new equipment. 
An overhaul that goes beyond infrastructure
SREUP's benefits extend beyond retrofitting, to safety, health and environmental measures. Family planning and medical advice are being offered at Snowtex and Ananta Huaxiang Ltd, another factory found in the Export Processing Zone (EPZ) of Dhaka, and which also received a €13.8 million-loan from Proparco.
"I am pleased that there is a medical center on the factory's premises," says Asma Akter, an assembling supervisor. "They also have childcare facilities where I can leave my children while I work." Such services are vital for a workforce that is predominantly female. About 80% of the ready-made garment industry workforce in Bangladesh are women.
Following the Rana Plaza collapse, the Government of Bangladesh, the European Union and other international partners also adopted the Compact for Continuous Improvements in Labour Rights and Factory Safety in the RMG Industry. 
---
Further reading: AFD Group in South Asia
---
It's part of the ongoing collective effort to make the industry's workplaces safer and healthier for the estimated 4.2 million people employed in the Ready-Made Garment sector, producing clothing for big-name shops around the world. With more than 4,000 textile factories handling orders for top brands and retailers, the industry accounts for about 80% of Bangladesh's export earnings and more than 9% of its GDP.  
"The RMG sector is a very competitive market, globally" says Farhana Islam, Bangladesh Bank's Deputy Director. "To remain competitive, we need support from institutions like AFD. Because here are the buyers' requirements nowadays: workers need to work in safe environments, they need to have access to social facilities. These workers are giving us so much that we have the moral obligation to ensure this is being done by their employers."
So far, at least 17 RMG companies have received loans via financial institutions worth more than €20 million, amounting to about 40% of the total available credit under the program. Not only will these loans provide safety, environmental and social benefits; working conditions will improve in more than 50,000 jobs, over half of which are held by women. 
Further reading