Transformation of Secondary Education in Benin
published on
03 August 2022
In Benin, the government has made secondary education a priority. AFD has been contributing to these efforts since 2017 by supporting the Benin Secondary Education Support Project (PAESB). Here, we take a look at a program that puts students at the heart of the country's governance.

First published on April 21, 2022
Cotonou, Benin. Venance Sènou is a 20-year-old science student in his final year of high school. His fellow students elected him to represent them before the school's administrative body. He is well acquainted with the benefits of the Benin Secondary Education Support Project (PAESB) at his school: "Construction of this 8-classroom unit has largely solved our problem of lacking room for all the students. The two latrine units also came at just the right time – before, the air was unbreathable. The old latrines were full to bursting, and some students no longer hesitated to defecate in the open air near the school."
The Beninese education system suffers from a staggering dropout rate. Six out of ten children go on to middle school, but of them only two finish it. This is due not only to lack of infrastructure and qualified teachers, but also to the large number of student-age children: in Benin 40% of the population is aged under 14, making up 5 million children.
To address these problems, PAESB has made strengthening of infrastructure its top priority. Four administrative departments (Atlantique and Littoral in the south and Atacora and Donga in the north) were chosen for construction and fitting out the classrooms. Over three years, 62 four-classroom units and 112 latrine units have been built. The Minister of Education, Mahougnon Kakpo, announced the results of this operation during their inauguration: "12,400 seats for our students, in 45 schools."
The education system reinvented
AFD has provided €10 million in grants to PAESB, which also focuses on the quality of education. Decentralization of the supervisory and educational coordination system has been carried out in order to "strengthen support on a local basis," says the project coordinator, Wilfrid Djènontin. To this end, 108 educational inspectors have been recruited, 50 of whom will be trained as part of PAESB. "We've also provided these new teams with all-terrain vehicles and reprographic equipment such as photocopiers, printers and accessories," says Djènontin. 
Quality of education is an especially acute problem in the sciences. Disaffection by Beninese students is worrying, as seen by the high failure rates in examinations. A "Science Plan" is being developed to reverse this trend. In the meanwhile, 3,470 teachers have been trained to raise Benin's level in the sciences.
Student ministers
PAESB places great importance on capacity building for running secondary schools. The goal is to "improve management, school life, and the quality of student follow-up," says Djènontin. In concrete terms, a formal collaborative framework has been developed for the educational teams. 
In addition, students are being given a central role in the governance of their schools, where they are represented by a "government" and "ministers." For example, Kouandika Idani, a 19-year-old student in the 9th grade, is "Minister of Health" at her school, located in Kouandé, in northwest Benin. She has worked actively in awareness-raising targeting the girls of her school, on hygiene and the phenomenon of student pregnancy. "The students understand the messages better and endorse them because it is other students who are communicating them," she says.
As Le Monde journalist Marie de Vergès points out in a recent column, the current health crisis is shaping up to be a "generational catastrophe" for most of the countries of sub-Saharan Africa. Indeed, the school closures due to the epidemic have exacerbated dropout rates, especially among girls. But whereas schools in some countries remained closed for ten months or more, school closures in Benin lasted only ten weeks. This is quite a feat —and reason for hope—in a country that is striving to keep its children in school.
Boumbéri Akimou
9th grade, student representative at Tanéka Koko Middle School (Donga department)
"The construction of this four-classroom unit has solved the problem of having to constantly change classrooms. It was often difficult for us to attend classes. We had to wait for a classroom to become available before we could have a place to hold our classes. But this unit has made it possible to provide permanent classrooms for the whole school, from 6th to 9th grade. That's a lot less stress for all of us!"
Patient Gnitona
Principal of Boukoumbé Middle School (Atacora Department)
"Our school has gained two new four-classroom units. This has increased the number of students we can teach at one time, and reduced the problem of rotating classes, which was causing us a lot of trouble. For example, some students who live dozens of kilometers away from the school suffered from relatively late school-leaving times and schedules subject to abrupt changes.
"This was reason enough for a number of students to give up coming to classes. We also obtained the construction of two latrines units with an access ramp adapted for people with reduced mobility. It's a new style of construction that will be reproduced on other sites not supported by PAESB."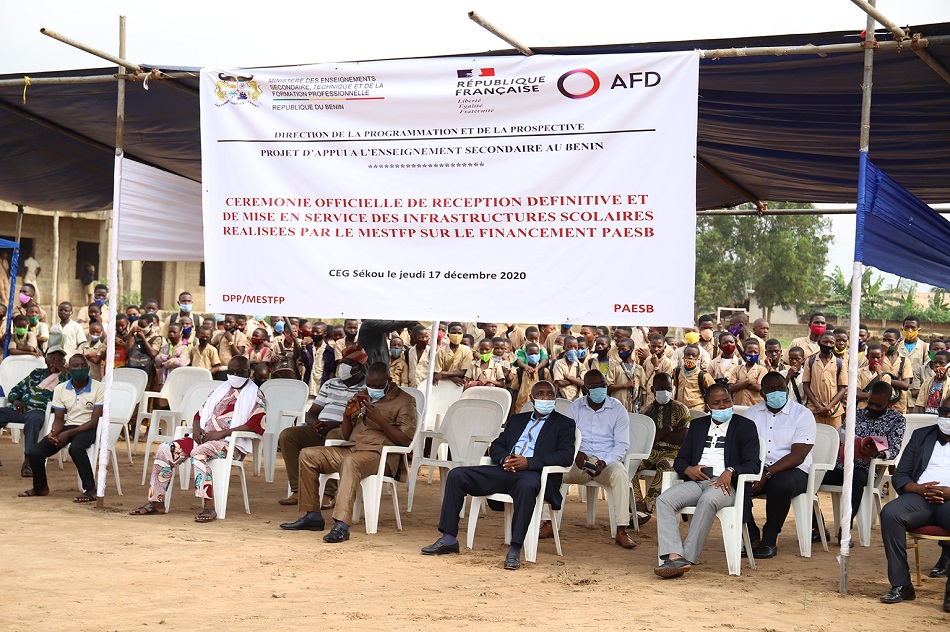 Supporting Secondary Eduction in Benin, in figures:
Nearly 250 fully equipped classrooms built
Room provided for an additional 12,400 students 
112 latrine units built at 45 middle schools, half of which for girls
3,470 teachers of math, physics-chemistry and technology trained
2,639 middle school administrators, inspectors and educational advisers trained in school governance and in improvement of educational activities