Colombia
Colombia is on its way to becoming the third-largest economy in Latin America. But despite its undeniable vitality, the country must deal with huge challenges. To provide support, AFD is focusing on three objectives: local sustainable development, policies to mitigate and adapt to climate change, and social cohesion.
AFD AND COLOMBIA FIGHTING INEQUALITY AND CLIMATE CHANGE
Promoting green growth
Reducing inequality
Improving social inclusion
Improving social inclusion
Colombia's distinctive characteristic is its diversity, in both its natural heritage and its social reality. The country's challenge is to succeed, in the coming years, in reducing its social inequality and in boosting equitable development for all regions. Likewise, taking climate change into account in public policies is one of the prerequisites for Colombia's membership in the OECD.
With a total of 2 billion dollars committed since its arrival in the country in 2010, France is one of the foremost bilateral donors in Colombia. AFD grants loans to the Colombian Government as support to national public policies (decentralization, social protection, climate and territorial development). It grants direct financing, without state guarantees, to local authorities, public-service enterprises and financial institutions. These loans are accompanied by technical assistance and from delegated resources from the European Commission (Latin America Investment Facility).
In 2016, the French and Colombian presidents signed a roadmap that creates a framework for AFD intervention in the upcoming years. The roadmap outlines two priorities:
support for implementing the peace agreements
complementarity between the financing of investments and the financing of Government policies
Interactive map
This map is for illustrative purposes only and does not engage the responsibility of the AFD Group
See map of all projects
Download
Research document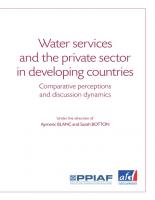 During the past twenty years, participation of the private sector in the field of essential services has been a topic of much discussion, allowing the expression of very different viewpoints ...
Apr 2012
Research document
Pour que les villes se protègent contre les dérèglements climatiques, un engagement politique fort est bien sûr nécessaire, mais pas seulement. Un ensemble de facteurs ...
Nov 2014