AFD-GDN Biodiversity and Development Award: The Winners and their Projects
published on
21 July 2021
Launched by the Global Development Network (GDN) and Agence Française de Développement (AFD), the AFD-GDN Biodiversity and Development Award provides support for researchers in their projects to preserve biodiversity. Spotlight on the winners of the 2021 edition in five countries: Ghana, Vietnam, Ethiopia, Madagascar and Fiji.
The AFD-GDN Biodiversity and development program is competitive and subject to a rigorous selection process based on scientific excellence. Each winner will receive a two-year research grant to carry out the selected project. The selected researchers will also receive scientific mentoring.

Margaret Fafa Awushie Akwetey (Ghana)
Margaret Fafa Awushie Akwetey has a PhD in oceanography and limnology and specializes in aquatic ecology. She is a Teaching Associate at the Department of Fisheries and Aquatic Sciences, University of Cape Coast in Ghana. Passionate about the health of aquatic ecosystems, she enjoys working by the sea and in coastal wetlands. She is currently working on the development of biotic indices and a benthic macroinvertebrate identification guide for assessing the ecological health of coastal wetlands in Ghana. 
The project: The study aims to assess livelihoods on the ecosystems and biodiversity of the Keta Lagoon Complex Ramsar site (Klcrs) in Ghana. It will also study potential responses that could reduce pressure on biodiversity and optimize the functioning of the socio-ecological system.

Lavenie Tawake (Fiji)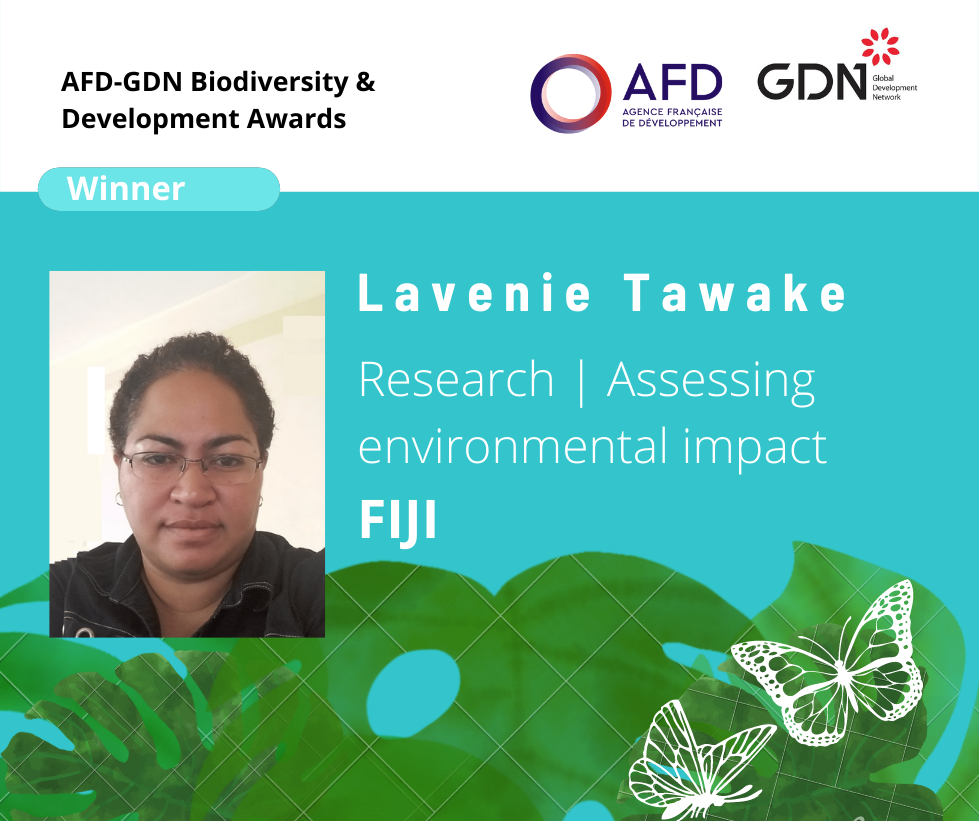 Currently an Environmental Project Manager at the Institute of Applied Sciences, University of the South Pacific, Lavenie Tawake has 20 years of experience in the environmental sector in Fiji. This has included developing, managing and evaluating natural resource management projects with communities, subnational and national stakeholders in Fiji, and working with regional and international funding agencies. She has a particular interest in integrated coastal management, climate change adaptation, waste management, gender mainstreaming and community resilience. Lavenie Tawake is also an advocate for indigenous rights and welfare.
The project: Environmental impact assessments in Fiji appear to be ineffective, which does little to alleviate the problems associated with biodiversity loss through habitat destruction by development projects. The project will therefore evaluate and revise environmental impact assessment guidelines for Fiji.

Nam Hoang Vu (Vietnam)
Nam Hoang Vu is an Associate Professor of Development Economics in the Faculty of International Economics at the University of Foreign Trade in Hanoi, Vietnam. He received his PhD in Economics in 2008 from the National Graduate Institute for Policy Studies in Tokyo, Japan. His research interests include development economics, business innovation, small and medium enterprise development and business environment. He has published in several academic journals, including: World Development, Journal of Economic Behavior and Organization, Journal of Comparative Economics, Journal of Development Studies.
The project: The study aims to integrate biodiversity into vegetable farming in Vietnam by promoting the adoption of low chemical pesticide use practices.

Malalatiana Razafindrakoto (Madagascar)
A taxonomist specializing in soil ecology, Malalatiana Razafindrakoto is the first - and today the only - researcher to study the taxonomy of Madagascar's earthworms, in the wake of a few one-off studies conducted by Wilhelm Michaelsen in 1931. A researcher at the Laboratoire des RadioIsotopes (LRI) at the University of Antananarivo in Madagascar, her subjects of choice include earthworm taxonomy, earthworm ecology and soil biodiversity, and the intensification of soil functions in a tropical context. 
In Madagascar, 75% of the population is living below the poverty line. This situation is closely linked to low agricultural productivity. Malalatiana Razafindrakoto's objective is to provide small Malagasy farmers with easy-to-implement, innovative and inexpensive means to improve their agricultural production, while preserving biodiversity thanks to earthworms in particular. 
The project: The project aims to increase understanding of the ability of vermiculture and vermicompost to improve small-scale rice-fish farming (raising fish or shrimp in a rice field at the same time as growing rice) in Madagascar.

Tsyon Asfaw (Ethiopia)
Tsyon Asfaw holds a Master's degree in Biodiversity Conservation and Management from Wondoo Genet College of Forestry and Natural Resources (HU-WGCFNR) and is a lecturer and researcher at Hawassa University, Ethiopia. She joined the WildCRU research unit at the University of Oxford to do a postgraduate degree in international wildlife conservation practice. While there, she worked on the interaction between free-ranging domestic dogs and Ethiopian wolves in the Bale Mountains National Park, Ethiopia. 
Tsyon Asfaw then joined the WildCRU as a researcher and field coordinator. She is currently a PhD student at the University of Antwerp and a lecturer at HU-WGCFNR. Her thesis project focuses on bird species diversity and habitat association in agroforestry systems in Gedeo, southern Ethiopia.
The project: The study focuses on the conservation of large carnivores in the Omo Valley, southwest Ethiopia.
---
Two interdisciplinary bonus grants
Two other projects have been selected. They intersect several countries and are the result of cooperation between researchers:
Lavenie Tawake and Margaret Fafa Awushie Akwetey are leading a project to strengthen science communication to improve biodiversity integration in Ramsa coastal lagoons in Fiji and Ghana
Malalatiana Razafindrakoto and Vu Hoang Nam are examining agroecology for biodiversity conservation and well-being in Benin, Vietnam and Madagascar through a comparative study on the use of indigenous earthworms
Further reading