How AFD Group Aligns its Projects with the UN Sustainable Development Goals
published on
06 January 2023
From the provision of quality education to the restoration of ecosystems and the elimination of hunger, the UN's Sustainable Development Goals are ambitious, and serve as a kind of compass for AFD Group. To ensure its activities help fulfill the SDGs, AFD has created an analytical grid, which determines whether our projects meet a set of extensive criteria. Recent updates to the grid - like those for biodiversity and social cohesion - are both profound and far-reaching.

Through their financing, development banks play a key role in the achievement of the UN's Sustainable Development Goals (SDGs). But how do they evaluate whether the projects they finance actually contribute to their realization? AFD created – and has just updated – a Sustainable Development Analysis and Opinion Mechanism (SDAO), which examines the Group's financing activities to ensure they're aligned with the SDGs. 
Rating system
An analysis is carried out of the impact of AFD's projects as regards six themes: biodiversity, climate, social cohesion, gender, governance and economy. (See image below.) A six-level grading system is applied to each area, from climate change resilience to gender equality. An analytical grid provides specific criteria to estimate the project's impact, on a scale ranging from -2 (significant negative impact) to +3 (strong positive contribution).
For biodiversity for instance, a project can "significantly degrade biodiversity" (-2); have no negative or beneficial effect (0), or help conserve biodiversity (+2). Or it may contribute to the restoration or structural improvement of biodiversity (+3). A "sustainable development opinion" is then produced to inform the Group's decisions.  
Similarly in the "social" category, a project with a risk of deteriorating living conditions will be rated -1, while a project whose main objective is to reduce inequalities will receive the highest score.
This advisory opinion is issued for all of AFD's operations, with the exception of grants of less than €1.5 million and loans of less than €5 million; general budget support, guarantees and projects financed via the programs, Financing for NGOs (FISONG) and Financing for local authorities (FICOL).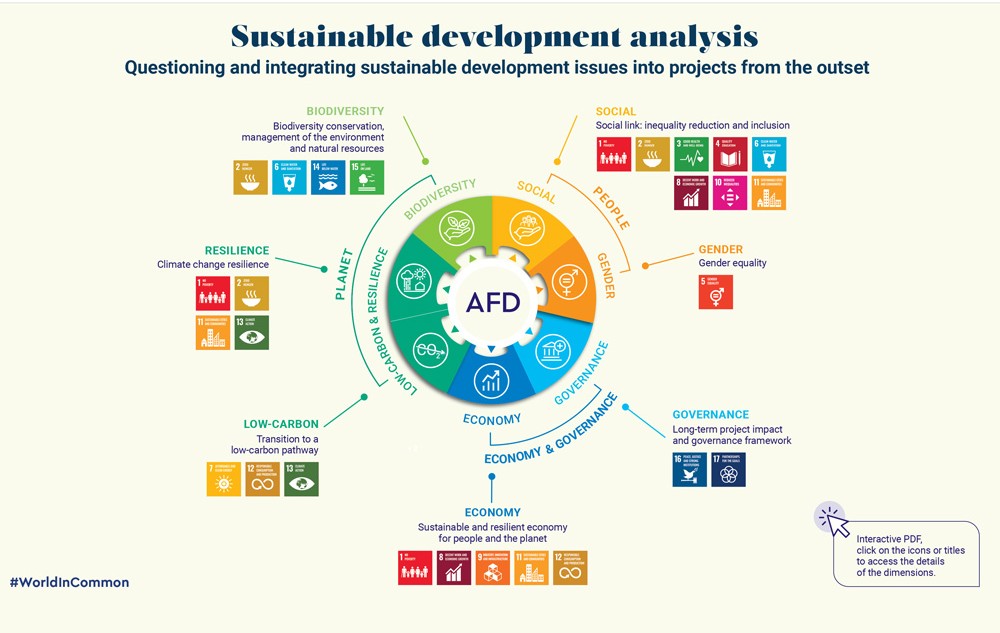 "All AFD's project managers use this grid," said Philippe Jahshan, AFD's Director of Strategy, Foresight and Official Relations. "The Strategy Department will then add its opinion, so each project benefits from two different views. This exercise allows us to maximize the positive impacts during the appraisal phase, while reducing or removing its negative impacts."
Greater account of biodiversity and social ties 
Since its introduction in 2014, the mechanism has been subject to two methodological revisions in 2018 and 2022, to align the analytical grid with AFD's new strategic priorities.
The latest version has been reorganized according to three pillars of sustainable development: planet, economy-governance and people. The "biodiversity" and "social" dimensions have changed considerably, and now include AFD's 100% Social Link strategy and the new biodiversity roadmap. The mechanism identifies and develops operations targeting the poorest 40% and identifies operations that can contribute to biodiversity finance.
Through the resilience dimension, it also takes into account the risks related to climate change, which may affect the achievement of the project's objectives. In the field of governance, emphasis is placed on the capacity of the contracting authority to manage and implement the project to ensure its sustainability. 
"The aim was also to adapt the mechanism to AFD Group's subsidiaries. So, the grid has been adapted for Proparco and Expertise France, with adjustments for their specific activities," added Philippe Jahshan.
The exclusion list 
The new analysis grid also takes into account the changes to AFD Group's exclusion list. The updated list came into force on 1 July 2022 for new projects financed in foreign countries and the French Overseas Territories. This list, whose initial version dated back to 2011, specifies the types of activity that the Group refuses to finance due to environmental, social, ethical or regulatory concerns, or as they relate to AFD's strategic choices. 
This mandatory verification stage prior to the appraisal of projects remains a reference point during the operations. It may even give rise to a withdrawal if shortcomings are found. 
One of the biggest changes is linked to the planet and climate change: any project aiming to build, extend or refurbish fossil-fueled power plants, including plants using natural gas, are now excluded from AFD financing. Greater account is also taken of human rights and the protection of essential areas for biodiversity.
Experience sharing 
AFD is sharing insights from the SDAO mechanism with other development banks. The objective is to continue to improve the tool and share best practices, and ultimately to come up with ways to create a common standard for financial institutions.
"The dialogue with our partners on the ground is also an issue," said Philippe Jahshan. "How can we analyze the entire organization of a project and ensure they also engage in a process of alignment with the Sustainable Development Goals, structurally, and not only for the project implemented with us?" 
These questions will be the subject of future discussions between AFD and its partners.