Senegal
Senegal, a coastal country in West Africa, has been experiencing strong growth since 2014. It has adopted a job-creating and environmentally friendly development model. To address challenges which still prevail – unemployment, infrastructure and food security –, AFD is supporting it in these areas.
AFD and Senegal: Promoting inclusive growth and protecting the environment
Supporting inclusive growth
Facilitating access to essential services
Developing urban transport
Focusing on the country's agricultural potential 
Supporting inclusive growth
Facilitating access to essential services
Developing urban transport
Focusing on the country's agricultural potential 
1.6bn
euros committed since 2008
138
SMEs supported since 2005
181m
euros committed for agriculture
Senegal is located in the westernmost part of Africa, on the Atlantic coast, and has 15.3 million inhabitants. It is the second largest economy in French-speaking West Africa and has been experiencing strong growth since 2014.
Indeed, the country can rely on a number of advantages: its democratic tradition, its geographical position, a young population, a vast agricultural and mining potential and the dynamism of its diaspora.
However, it needs to deal with an informal economy which deprives the State of major resources, demographic pressure which increases poverty, and a youth suffering from the lack of jobs. There is, in addition, the environmental emergency: with its 531 km-long coastline, Senegal is particularly vulnerable to climate change.
AFD has been a partner of the country since 1947 and is a key correspondent for the Senegalese authorities. It mobilizes its entire range of financial tools to finance projects that contribute to sustainable and environmentally friendly growth with a concern for reducing inequalities.
Interactive map
This map is for illustrative purposes only and does not engage the responsibility of the AFD Group
See map of all projects
News & Events
Download
Evaluation document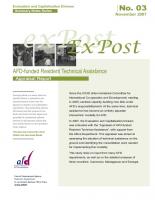 Since the CICID (Inter-ministerial Committee for International Co-operation and Development) meeting in 2005, sectoral capacity-building now falls under AFD's responsibility/remit. At the same time, technical assistance has become an ...
Nov 2007